Plot Twist: BlackBerry Abandons Sales Bid and CEO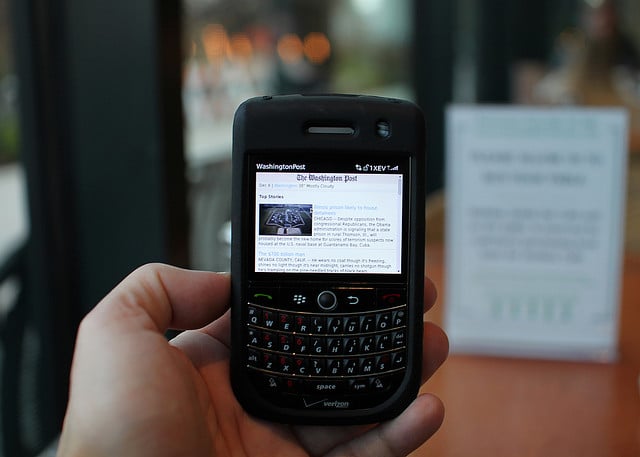 BlackBerry (NASDAQ:BBRY) had a surprise for consumers, investors, and analysts Monday when the struggling tech company announced its decision to drop its sales bid and instead restructure with a new chief executive officer. Following the announcement, shares of BlackBerry plunged 18 percent in pre-market trading and sat at $7.70 as of 9:20 a.m.
#Breaking: #BlackBerry abandons plan to find buyer, will replace CEO $BBRY $FFH.CA $BB.CA. Details soon from @globebusiness

— Globe Investor (@globeinvestor) November 4, 2013
The news caught investors off guard at the beginning of the new trading week as Monday marked the deadline for other firms to make a bid against Fairfax Financial Holdings for BlackBerry's long-awaited buyout, but it is now clear that the smartphone maker had other plans. According to Yahoo, BlackBerry explained in its statement Monday that it will receive a $1 billion investment from Fairfax and replace current CEO Thorsten Heins with John S. Chen, who will also serve as the executive chair of BlackBerry's board of directors.
Fairfax, BlackBerry's largest shareholder, originally offered a $4.7 billion buyout bid for BlackBerry back in September, but up until Monday, it was still unclear whether that deal would go through. The firm's Chair, Prem Watsa, remained mum about Fairfax's ability to secure funding, and other interested buyers also approached BlackBerry, including the company's two co-founders, Cerberus Capital Management and Lenovo Group.
Now, BlackBerry expects its newly-announced transaction to be completed within the next two weeks, and under the terms of the agreement, Fairfax and other institutional investors will invest in BlackBerry through a U.S. $1 billion private placement of convertible debentures.
According to Yahoo, upon the closing of the deal, Chen will officially be appointed interim CEO and Executive Chair of BlackBerry's Board of Directors while Watsa will be appointed Lead Director and Chair of the Compensation, Nomination, and Governance Committee. Heins will resign from the Board at closing and step down as CEO with Chen serving out his term until the search for a new CEO is completed.
Barbara Stymiest, Chair of BlackBerry's Board, further explained the decision Monday. "Today's announcement represents a significant vote of confidence in BlackBerry and its future by this group of preeminent, long-term investors. The BlackBerry Board conducted a thorough review of strategic alternatives and pursued the course of action that it concluded is in the best interests of BlackBerry and its constituents, including its shareholders. This financing provides an immediate cash injection on terms favorable to BlackBerry, enhancing our substantial cash position. Some of the most important customers in the world rely on BlackBerry and we are implementing the changes necessary to strengthen the company and ensure we remain a strong and innovative partner for their needs."
Don't Miss: Another iOS Executive Bails on Apple.