Qihoo and Yahoo: A Tale of Two Search Engines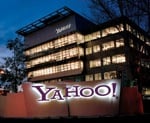 Word on the street is that Yahoo (NASDAQ:YHOO) is finally giving its homepage a makeover and Business Insider has some screenshots of what the new landing page could look like. Revamping the homepage is a big ticket in CEO Marissa Mayer's turn-around plan for the company.
On October 10, data from comScore showed that Yahoo's share of the search engine market had fallen even more in September. The company now claims just 12.2 percent share, down from 15.5 percent in the month a year ago. In September, eMarketer reported that Yahoo — once the leader — will only see 9.3 percent of the share of display ad revenue and projects this number to decrease through 2014. Yahoo has fallen to third since 2010, when it topped the list.
Catalysts are critical to discovering winning stocks. Check out our newest CHEAT SHEET stock picks now.
Search engine giant Google (NASDAQ:GOOG) — 66.7 percent search share in September, up from 65.3 percent a year ago — is slated to take the number one spot in display ad revenue, beating out Facebook (NASDAQ:FB). Yahoo's proposed new homepage seems to take a hint from both companies, emphasizing search and integrating a social news feed. Also on tap: fewer advertisements.
Yahoo obviously has a lot of work to do if it's going to stay above water. Not just search, but the way people use the Internet is changing rapidly. Google may seem unmovable, but what's happening between Baidu (NASDAQ:BIDU) and Qihoo 360 (NYSE:QIHU) in China offers an interesting perspective.
The analogy isn't perfect, but Baidu has been called the Google of China. Baidu claims about the same search share in China that Google does in the United States. Both companies advocate a minimalist design policy. Baidu pretty much had the search market all to itself when Google started phasing out of the country.
Meanwhile, Qihoo, which launched its search service just a short while ago, probably claims about as much search share as Yahoo does — it's too early for reliable numbers from Qihoo to have surfaced. If Baidu is like Google, then Qihoo is Yahoo, trying to claim search share by pulling more people to its website. Both companies make a substantial amount of money in display advertising on their homepages.
Of course, there are as many differences as there are similarities. But if Qihoo remains a favorite underdog for investors, then Yahoo might be able to keep the faith of Wall Street through its turn-around efforts. It's possible that having the best landing page on the Internet might be a good enough reason to switch search engines.
Don't Miss: Here's How Google is Making the Most of Apple's Maps Shame.