Qualcomm's Smartwatch Isn't Worth Your Money …Yet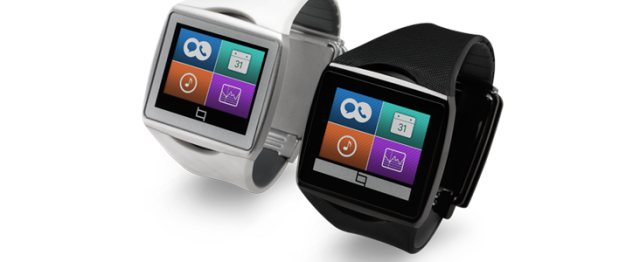 Gadget lovers rejoice! The wrist computer, or "smartwatch" à la Buzz Lightyear and the Jetsons has finally arrived. It seems Qualcomm, along with a handful of other companies, including Samsung, Sony, and Pebble, are releasing their own version of the smartwatch this year, according to tech website AllThingsD.com.
Qualcomm's watch, dubbed "Toq" and pronounced like the "tock" in "tick, tock" (yes, we see what you did there, Qualcomm), will serve as companion to an Android smartphone. Currently, Toq can display any new notifications you may have on your phone, as well as provide quick access to information about weather conditions and stock information. Beyond that, the number of tasks it's able to complete are fairly limited. It can control your phone's music player, for instance. The Toq lacks a built-in microphone, and thus unlike other models — such as Samsung's equivalent Galaxy Gear watch — you can't make any phone calls, writes AllThingsD.
The AllThingsD.com review praises the Toq's always-on display, which functions well even in sunlight without draining battery-life, but claims that for right now, gadget junkies should hold off for future models which will (hopefully) sport a lighter-weight design, more reliable controls, as well as better features and functionality. The Toq's bulk and limited usability, as well as it's sizable $350 price tag mean it's not worth your money just yet, according to AllThingsD.com.
For now, The Toq's best features seem to be it's 1.55-inch color touchscreen, which uses Qualcomm's Mirasol technology, one of the benefits of which is that it can boast a decent color display without sucking up battery life. The technology also means that the display is readable in a wide variety of lighting conditions, though the watch does also have a backlight.
Other positive features include a list of pre-set text message reply options, such as "I'm in a meeting, text you later,"  which allow the wearer to quickly respond to a text without digging through a purse or pocket for their phone. The Toq also possesses the ability to re-charge wirelessly, a technology that Qualcomm is boasting about, as it's unavailable in other smartwatch models.
The biggest negatives of the Toq, according to the review by AllThingsD, was it's strange fitting process and bulky design, as well as it's lack of functionality and features. The bottom line for those excited about the prospect of the new technology, which it sounds like might apply to most of the new smartwatch options out there, seems to be: "be patient, wait a few years, and save your money."
More From Wall Street Cheat Sheet: