Radar Movers: Microsoft and Google Impress Wall Street, IBM Sinks 4%
Shares of Microsoft (NASDAQ:MSFT) gained 2.3 percent in late afternoon hours. The company announced a quarterly profit of $6.06 billion (72 cents per share), compared to $5.11 billion (60 cents per share) a year earlier. Revenue also jumped 18 percent to $20.49 billion. "The bold bets we made on cloud services are paying off as people increasingly choose Microsoft services including Office 365, Windows Azure, Xbox LIVE, and Skype," said Steve Ballmer, chief executive officer.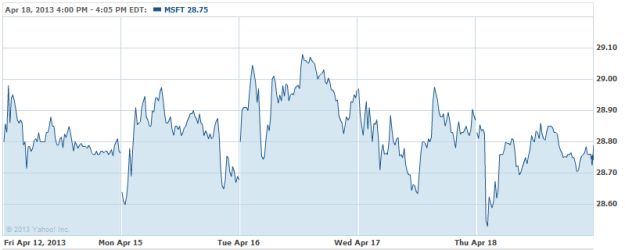 Google (NASDAQ:GOOG) shares edged slightly higher in late afternoon trading. The search giant  posted a quarterly profit of $11.58 per share, above expectations of $10.68 per share. "We had a very strong start to 2013, with $14.0 billion in revenue, up 31 percent year-on-year," said Larry Page, Google CEO. "We are working hard and investing in our products that aim to improve billions of people's lives all around the world." Yahoo! (NASDAQ:YHOO) shares also edged higher in late afternoon trading.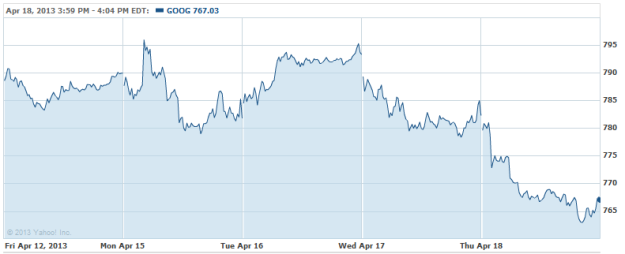 Shares of International Business Machines (NYSE:IBM) sank nearly 4.0 percent after announcing disappointing first-quarter financial results. Adjusted net income came in at $3.4 billion ($3.00 per share), compared to Wall Street's estimate of $3.05 per share. Revenue also dropped 5 percent in the quarter to $23.4 billion, below expectations of $24.6 billion.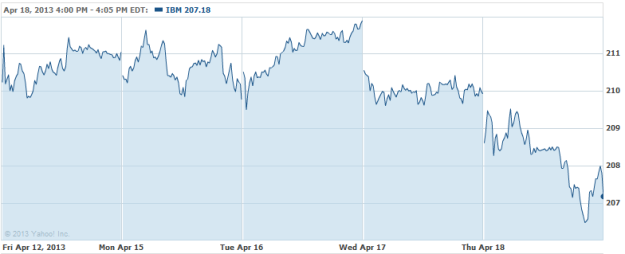 Apple (NASDAQ:AAPL) shares declined 2.7 percent on Thursday and continue to edge lower in late afternoon hours. Verizon (NYSE:VZ) reported that iPhone activations declined 33 percent in the first quarter, compared to the prior quarter. Although the previous quarter is a tough comparison due to the holiday season, last year's activations at Verizon only declined 24 percent from the fourth quarter.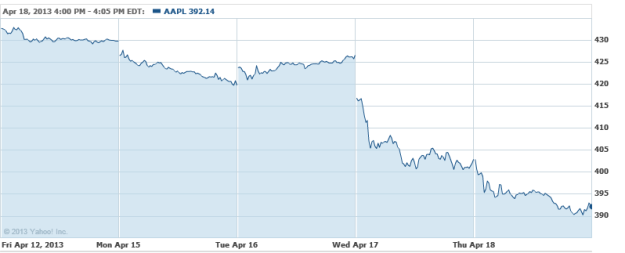 Don't Miss: Should You Get Defensive With Dividends?