Reckless Army iPhone Use Creates This Security Problem
A recent Department of Defense (NYSE:DOD) audit of security issues related to the use of personal mobile devices by Army personnel for work found some serious problems. According to Tech News Daily, some of the security issues were related to the practice of "bring your own device," or BYOD policies at Army facilities, where users' devices could connect to Army Wi-Fi networks.
Investigators discovered that one Army programmer threw away a damaged iPhone without reporting the loss and replaced it himself. Since the Apple (NASDAQ:AAPL) device was used for his professional duties, the unauthorized disposal of the device could have created a serious security breach.
Many devices used at Army facilities were simply unaccounted for, and the DoD audit discovered that "almost 15,000 unauthorized devices" were being employed for military use reports Tech News Daily.
Much of the blame was placed on Lt. Gen. Susan S. Lawrence, who is the Army's chief information officer and is responsible for maintaining the security of mobile devices used by Army personnel. The DoD report via Tech News Daily notes that the chief information officer failed to give essential mobile security instructions to subordinates, including training that ensures users do not share military secrets.
Lawrence also failed to monitor devices that were connected to military computers, or make certain that those devices were free of malware and could securely store sensitive data. Mac Daily News notes that a ban on the use of BYODs that use Google's (NASDAQ:GOOG) Android operating platform might help the situation since the devices are notorious for "their inherent lack of security."
Other security flaws found on many of the Army's mobile devices include a lack of password protection, the use of vulnerable operating systems, and no use of protective software reports Tech News Daily. Currently the Army is working with the DoD to create improved rules and stop reckless behavior by military mobile device users.
Apple shares on Friday closed down $4.52, or 1.06 percent, at $423.20, and Google closed down $12.02, or 1.51 percent, at $783.05.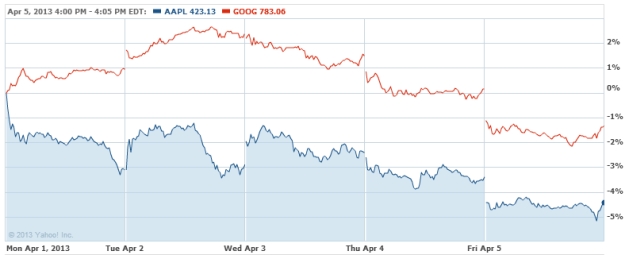 Don't Miss: Apple Products are Sacred in China During Tomb Sweeping Day.