Report: AmazonFresh Soon Coming to San Francisco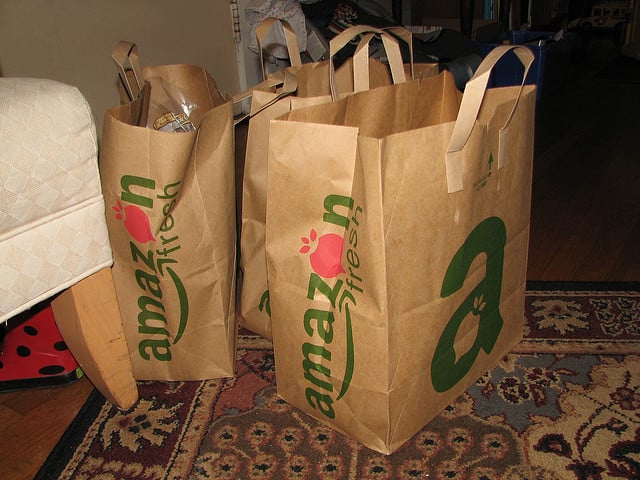 According to sources who spoke to AllThingsD, Amazon.com Inc. (NASDAQ:AMZN) is planning to launch its AmazonFresh grocery delivery service in San Francisco later this month.
In addition to the tip, AllThingsD also reported out that AmazonFresh trucks have been seen driving around the city. The Wall Street Journal said that there's even been a job posting looking for a quality assurance manager for AmazonFresh's new warehouse in Tracy, California, which is 60 miles from San Francisco.
AllThingsD's source said Amazon is planning to launch AmazonFresh in San Francisco on December 10, which will be exactly six months since AmazonFresh first began serving Los Angeles. San Francisco will be the third city in which Amazon's grocery delivery is available. AmazonFresh was debuted in Seattle, Amazon's home base.
AmazonFresh allows shoppers to order their groceries — like produce, milk, and dry goods — online and have them delivered to their door with either same-day or next-day service. In Los Angeles, the grocery delivery works under a service called PrimeFresh, which adds grocery delivery to regular Amazon Prime benefits like free two-day shipping and access to Amazon's Prime Instant Video for $299 per year. The idea is that Amazon doesn't have to make a ton of money on selling groceries if it can use the membership to encourage the purchase of other items, as well.
Amazon won't be without competition in the Bay Area, as Wal-Mart (NYSE:WMT) started its own grocery delivery service a few months ago in San Francisco and San Jose, the Journal reports. Google (NASDAQ:GOOG) also offers same-day delivery in the city, but not for groceries.
In a battle to continue its domination of the e-commerce world in the face of increasing competition, Amazon is betting that the company that can provide the fastest shipping of the most stuff to the most people will reign victorious. To that end, the company has been spending like crazy on building more of its fulfillment centers closer to urban areas, where more customers can be reached faster.
When asked for a comment on the rumors, an Amazon spokesperson told AllThingsD that the company has nothing to announce at this time.
Follow Jacqueline on Twitter @Jacqui_WSCS
Don't Miss: Did Google Steal Android Code From Oracle?