Report: Netflix Viewership Will Just Keep Growing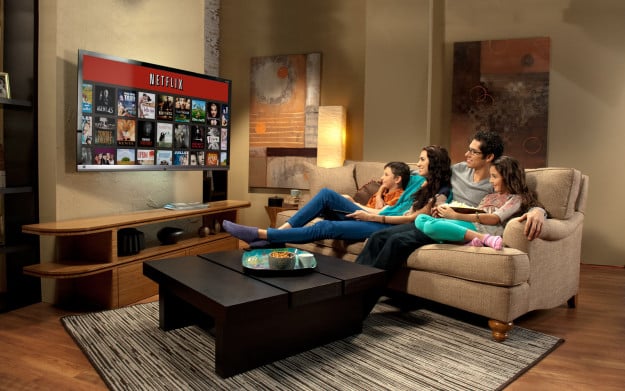 According to new research from TDG, Netflix (NASDAQ:NFLX) viewership in the U.S. will double between 2013 and 2018, reaching 13 billion hours by the end of this year and continuing its growth to top 26 billion hours by 2018.
The report, titled "The Maturation of Netflix – US Streaming Subscriptions & Viewing thru 2022″ and seen by Seeking Alpha, also predicted that Netflix's domestic growth would begin to level out by 2020, while Netflix is expected to continue seeing international growth past that year.
Bill Niemeyer, the analyst who wrote the report, said competition from competing services like Amazon's (NASDAQ:AMZN) Prime Instant Video and Hulu — which is jointly owned by Comcast Corp. (NASDAQ:CMCSA), Walt Disney Co. (NYSE:DIS), and 21st Century Fox (NASDAQ:FOX) — would put pressure on Netflix's growth. Niemeyer predicted in the report that even after 2020, "Netflix will remain a formidable U.S. market force."
He continued: "Would-be competitors will need to do as Netflix has done: spend the considerable money it takes to acquire quality content, move forward with good strategy, and offer a high-quality consumer search/discovery and viewing experience."
Netflix stock reached an all-time high on September 10, showing that Netflix has left behind the snafus that caused shares to plummet when the company split its DVD rental and streaming businesses in 2011. Netflix's content deals and well-received original content have helped pull Netflix past the 800,000 subscriber loss it faced after that split.
Netflix's recent deal with the U.K.'s Virgin Media, a subsidiary of John Malone's media empire Liberty Global (NASDAQ:LBTYA), helped drive Netflix stock up, but it could be bad news for traditional pay-TV operators. Cable and satellite providers have been worried about Netflix and other streaming services spurring a movement of "cord-cutters," or people who choose to forego traditional pay-TV in favor of much cheaper streaming services like Netflix and Hulu.
The deal with Virgin Media is Netflix's first partnership with a pay-TV provider, and some are saying it spells the beginning of the end for traditional television.
Follow Jacqueline on Twitter @Jacqui_WSCS
Don't Miss: 5 Movie Trailers Racking Up Buzz This Week.