Research Firm: Amazon's Groceries Are Pretty Expensive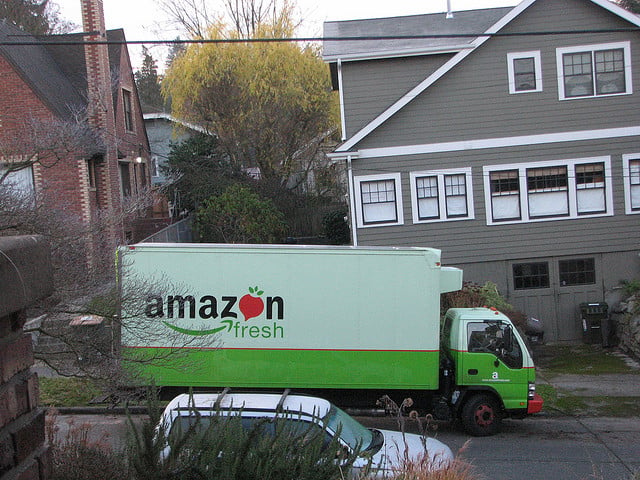 Amazon (NASDAQ:AMZN) launched its AmazonFresh grocery delivery service in San Francisco on Wednesday, and if the service proves successful in its third location, AmazonFresh could become available in more urban markets throughout the United States next year. Amazon has challenged retailers in almost every other sector with its super cheap prices, so the question now is could its introduction into the grocery business hurt traditional stores like Wal-Mart (NYSE:WMT) or Kroger (NYSE:KR)?
Recent research from RetailNet Group seen by USA Today suggests that Amazon is using a different pricing model for its grocery service than the other products it sells through its site. The firm purchased a basket of 30 items from AmazonFresh, Wal-Mart's competing online delivery service Wal-Mart To Go, and through grocery delivery startup Instacart.
The firm found that AmazonFresh charged the most for the same items out of all the stores and delivery services tested. The groceries cost $94.80 through AmazonFresh in Los Angeles and $99.58 in Seattle. Wal-Mart To Go charged $80.38 for the same order, and it cost $84.85 for Instacart to pick them up from Trader Joe's and deliver them. The items cost less than $90 at a number of physical grocery stores in Los Angeles without the use of delivery service.
This suggests that Amazon is going for the high end of the grocery market, along with stores like Whole Foods Market (NASDAQ:WFM). This is a notably different approach than Amazon has taken in other areas of its business.
The reason for the change may be the expenses related to providing customers with fresh meat, produce, and dry goods. Instead of taking on these costs itself, Amazon is working with suppliers for the food products, which means it has to share its profits with those partners. The service is targeting people who maybe have extra money to spend on groceries but are too pressed for time to make frequent trips to a physical grocery store.
"This seems like a huge hurdle for shoppers to jump just to order groceries online, and artificially limits their addressable market," Dan O'Connor, CEO of RetailNet Group, said to USA Today.
Amazon is hoping that the slightly wealthy and super busy demographic will be enough for the company to see profits from the grocery delivery service, but regular grocery stores have no need to panic over Amazon's entrance into the market for now.
Follow Jacqueline on Twitter @Jacqui_WSCS
Investing Insights: Can Microsoft Continue to Outperform?