Returning 'GTA 5′ Players Get Extra Goodies on PS4, Xbox One
Grand Theft Auto V was a massive success when it came out last year for Xbox 360 and PlayStation 3, earning $800 million in a single day and going on to sell 33 million units. Developer Rockstar is getting ready to release the game on PlayStation 4 and Xbox One on November 18, and on Windows PC in January. In hopes that gamers who have already played the game double-dip and pick it up again for a current-gen system, Rockstar announced that it will offer exclusive content for those players.
The bonus content includes new events, weapons, rewards, and even a murder mystery, Rockstar wrote in a blog post. According to Rockstar, each new piece of content is "connected to activities designed for you to experience the game's massive world in new and exciting ways."
The new events will include stock car races that are scattered around the game world; winning these events will get you access to new muscle cars. Other new vehicles coming to the game include the "menacing" Imponte Duke o' Death and the "classic" Dodo Sea Plane, which is like the hard-to-control airplane from previous GTA games, but with pontoons for water landings. Also keep an eye out for a monster truck and a "faster and more maneuverable" blimp.
To take part in the new murder mystery, you have to play as the former mobster character Michael. If you collect a string of clues and piece them together, you'll crack the case, which grants you access to two "Noir Style Filters" that can make the single-player game and your Snapmatic photos look like classic crime movies.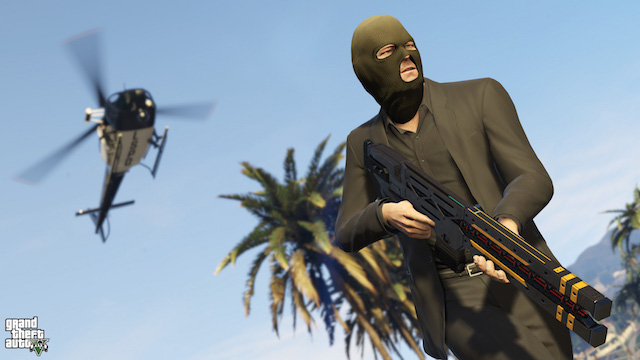 If Franklin is you character of choice, you can play as him to take part in a new wildlife photo challenge. This challenge has you travel all throughout the game world to catalog the numerous new animals introduced in the game. Completing this side mission unlocks the Kraken Sub, which you can then use to explore the underwater areas of Los Santos and Blaine County.
New weapons include a rail gun and a hatchet. The rail gun comes with a handful of Shooting Range Challenges at Ammu-Nation stores, and the hatchet is good for up-close-and-personal attacks. Lastly, if you photograph each of the new monkey graffiti tags strewn around town, you'll unlock a Go Go Monkey Blista, in addition to new standard monkey costume unlocks.
Rockstar notes that this content will not be coming to the Xbox 360 and PlayStation 3 versions of the game: "The vastly enhanced graphics and many other gameplay updates on the new versions of Grand Theft Auto V are really only made possible by virtue of the powerful new hardware of the new consoles and PC… however do stay tuned for more updates to be made available for Grand Theft Auto Online across all platforms and we'll have more information on that soon."
While none of these exclusive features for returning players may sound all that exciting on their own, they add up to a lot of new things to do in the game. If you haven't played GTA V in a year and want to dive back in to see the updated graphics and try out any GTA Online content you might have missed, the new features will give you plenty of extra things to do.
As previously announced, you will be able to transfer your save file from a PS3 or Xbox 360 to a new system, provided you have a Rockstar Social Club membership.
Follow Chris on Twitter @_chrislreed
More from Tech Cheat Sheet:
Want more great content like this? Sign up here to receive the best of Cheat Sheet delivered daily. No spam; just tailored content straight to your inbox.