Rumor: Apple's iPhone 6 May Feature This Major Upgrade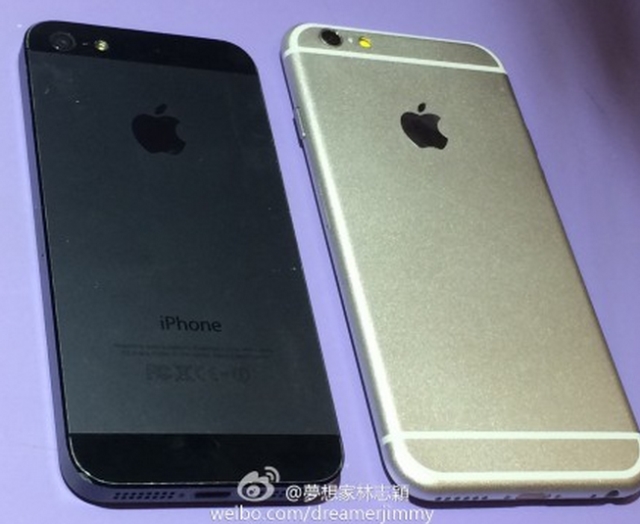 While there is always a high level of investor and consumer interest in every new iteration of Apple's (NASDAQ:AAPL) iPhone, the hype building up around the upcoming launch of the iPhone 6 is especially intense. Much of the buzz is centered on the next-generation iPhone models' rumored increase in screen sizes. Multiple media outlets have reported rumors that the iPhone 6 will be available in two larger screen sizes of 4.7 inches and 5.5 inches. Apple's current flagship iPhone 5S only has a 4-inch screen and many industry watchers are predicting that the introduction of two larger-screen models will drive an unprecedented increase in upgrades.
Although several purported renderings for the upcoming iPhones and images of mock-up models have emerged online, there has been an overall dearth of substantial component leaks for the iPhone 6, which seems to have only boosted the level of interest in the devices. Last week, Taiwanese pop star and race car driver Jimmy Lin posted images of what he claimed was a 4.7-inch iPhone 6 to his personal Weibo account. Despite Lin's claims, many industry commentators dismissed the device depicted in the photos as yet another mock-up model that was based on leaked design specifications.
However, several media outlets in Hong Kong are now backing Lin's claim that the 4.7-inch iPhone 6 he acquired is indeed genuine, reports GforGames. According to unnamed Apple employees cited by various Hong Kong media sources, the Cupertino-based company recently shipped multiple iPhone 6 beta testing units to various facilities around the world. The sources claimed that the device acquired by Lin is identifiable as genuine due to unspecified "unique particularities." Besides confirming the authenticity of the leak, the sources also claimed that the iPhone 6 will feature a higher-resolution Quad High Definition (QHD) display.
A QHD display would feature a resolution of 2560 x 1440 pixels, or four times as many pixels as a standard high-definition display. Although it is not clear which iPhone 6 model the sources are referring to, the QHD display is presumably only for the 5.5-inch model, since packing a 625 ppi display into a 4.7-inch size screen would be a difficult technical feat. Creating a 534 ppi display for the 5.5-inch iPhone 6 would be more feasible.
Apple's current flagship iPhone 5S features an 1136 x 640-pixel resolution display with a pixel density of 326 ppi. Last month, 9to5Mac cited exclusive insider sources that reported that Apple was testing a 1704 X 960 resolution display for the iPhone 6. While 9to5Mac's sources appeared to be suggesting that this display resolution would be used for both models, Apple could be using the 1704 X 960 resolution display only for the 4.7-inch model. This would still give the 4.7-inch iPhone 6 display a respectable pixel density of 416 ppi, while allowing Apple to remain competitive against other smartphone makers by using a QHD display for the 5.5-inch iPhone 6. It should be noted that LG's recently announced G3 smartphone features a 5.5-inch QHD display and arch-rival Samsung (SSNLF.PK) is rumored to be releasing the 5.3-inch Galaxy F with a QHD display this fall, reports PhoneArena.
Apple aficionados should find out if the QHD iPhone 6 display rumors are true sometime this fall when the company is widely expected to release its next-generation devices. Besides possibly featuring a larger screen with a higher resolution, Apple's iPhone 6 is also rumored to have a sapphire-covered display that will offer greater resistance to scratching and other damage.
Follow Nathanael on Twitter (@ArnoldEtan_WSCS)
More From Wall St. Cheat Sheet: