Rumor: Microsoft's Windows 8.1 Update May Include Default Desktop Boot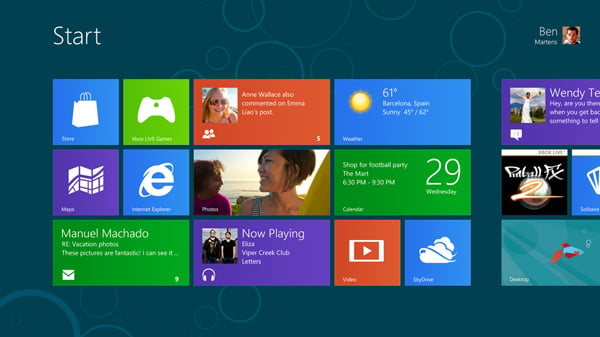 It appears that Microsoft (NASDAQ:MSFT) is retreating even further from its original Windows 8 strategy with the upcoming Windows 8.1 update. According to The Verge, Microsoft is testing a Windows 8.1 update that will boot to desktop mode by default. This goes even further than the original Windows 8.1 release last year that gave users the option to bypass the unpopular Metro user interface.
According to The Verge's unnamed "sources familiar with Microsoft's plans," the software giant is making the change in order to improve the operating system for keyboard and mouse users. Microsoft's Windows 8 operating system introduced the Metro tile interface that emphasized touchscreen input.
However, the unusual operating system was unpopular with many users who were accustomed to Windows 7 and found the tablet-friendly interface difficult to learn on a desktop. The criticisms eventually led to Microsoft returning the Start button in Windows 8.1. If The Verge's sources are correct, it appears that Microsoft will be moving even further away from its original tile-oriented approach to its operating system.
On the other hand, the upcoming Windows 8.1 update will keep some aspects of the Metro user interface by allowing users to run Metro apps in a separate window while still in desktop mode. Although Microsoft has continued to expand its app selection, it is still much smaller than the number of iOS apps available in Apple's (AAPL) vast app ecosystem. As noted by Softpedia, Microsoft users have about 142,000 Windows Store apps they can choose from compared to the approximately 1 million apps available to Apple's iOS users.
Per The Verge, the Windows 8.1 update may also make it easier for users to shut down their computers by including easy-to-find shutdown and restart buttons on the Start Screen. The previous iteration was criticized for hiding those options under the Charms Bar.
Microsoft's next Windows 8.1 update is rumored to be scheduled for release in March, according to The Verge. The changes implemented in the upcoming Windows 8.1 update are widely believed to presage bigger changes that are coming in Microsoft's so-called "Threshold," or Windows 9, release.
Microsoft is rumored to be unveiling its Windows 9 plans at the company's upcoming Build developer conference in April, according to sources cited by Windows SuperSite's Paul Thurrott. Thurrott said that Microsoft will begin development of the next-generation Windows operating system in April of this year and will have it ready for release around April of 2015. Three preliminary versions of the software are expected to be developed before its final release.
Follow Nathanael on Twitter (@ArnoldEtan_WSCS)
More from Wall St. Cheat Sheet: