Samsung Embraces 'Limitless' Smart Home With SmartThings Buy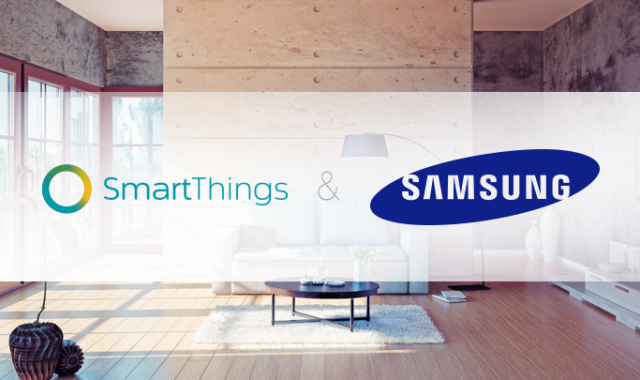 As new technology puts the Internet of Things and the automation of the smart home closer within reach of the regular consumer, people will be heading to Home Depot or Amazon not only to pick out thermostats that know when they're out of the house, lights that can switch themselves on and off, or locks that will open when they walk up the steps with bags of groceries, but to find a hub or a platform that will enable them to control all of those devices.
While some hubs are designed to control only the devices that third-party manufacturers have specifically designed to be compatible with that particular hub, or only the selection of devices that use one of a number of different communication protocols, there are a few hubs and platforms that are more universal, and aim to enable consumers to control just about any smart home device. That's where things are getting interesting.
Pushing deeper into smart home automation and the Internet of Things, Samsung is acquiring SmartThings, a startup that makes an open hub and platform to control an array of connected devices. Samsung announced the acquisition on Thursday, writing that with Samsung's resources and support, SmartThings will be able to make its platform available for integration with even more devices, bolstering the platform's current compatibility with some 1,000 devices and 8,000 apps. SmartThings will continue to operate independently under founder and chief executive Alex Hawkinson, within Samsung's Open Innovation Center in Palo Alto, California.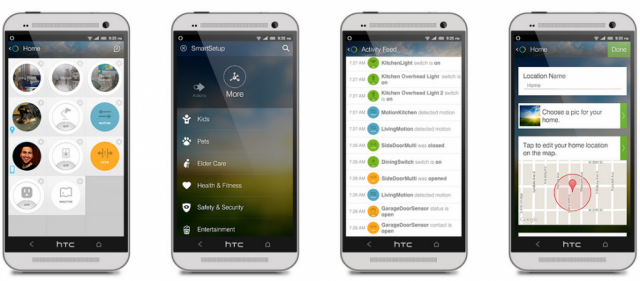 The company sells home automation kits comprised of a variety of sensors and a hub, which connects not only SmartThings sensors but also a range of third-party smart home devices for communication with each other and with an Android or iOS app, via which owners can monitor and control them. SmartThings is compatible with devices running on ZigBee and Z-Wave as well as IP-accessible devices, which means that consumers can connect devices by Belkin WeMo, Philips Hue, Sonos, Kwikset, Schlage, GE, and others. 
In Samsung's news release, Hawkinson stresses that SmartThings, which began as a Kickstarter project, will remain an open platform. "As an open, standards-agnostic platform for the Internet of Things, our vision has always been to innovate, build, and make the world smarter, together," says Hawkinson. "With Samsung behind us, we will be able to attract more device makers and developers to unlock the limitless possibilities of the consumer Internet of Things." 
SmartThings describes its product as "the easiest way to create a smart home," and an "easy, open, limitless smart home platform." In a post on the company's blog, the Washington, D.C.-based startup broke the news to its community, assuring SmartThings owners that the platform will remain open in spite of Samsung's influence, and could become even more universally compatible because of it.
"We believe that there is an enormous opportunity to leverage Samsung's global scale to help us realize our long-term vision. While we will remain operationally independent, joining forces with Samsung will enable us to support all of the leading smartphone vendors, devices, and applications; expand our base of developers and enhance the tools and programs that they rely on; and help many more people around the world easily control and monitor their homes using SmartThings."
Though most commenters on the post, many of them SmartThings owners, were less than thrilled with the news, Hawkinson assured each that the company's acquisition by Samsung wouldn't mean that innovation will slow, or that SmartThings will exclude other manufacturers' devices in favor of their Samsung alternatives. He also noted that SmartThings will continue offering a free service indefinitely, and in the future will also launch an optional premium marketplace for consumers to buy paid apps and services created by developers and service providers.
While neither Samsung nor SmartThings disclosed the terms of the deal, Re/Code cited sources who put the price tag at about $200 million, pointing to the value of an open, universal smart home automation hub. David Eun, a former Google and AOL executive who now runs Samsung's Open Innovation Center, told Re/Code that SmartThings' status as an open platform, compatible with a wide range of devices and easy for third-party developers to develop apps for, is what attracted Samsung. The company has developed smart appliances like refrigerators and washing machines, underpinned by its Tizen operating system, as part of its own smart home push, and reportedly isn't looking to limit SmartThings in its mission to connect any manufacturer's device, running any communication protocol.
"Samsung has been committed to smart homes and connected devices and has tried to paint this vision for a while. But since consumers have lots of different devices, the trend is really toward open, and our approach is to be open and protocol agnostic."
SmartThings is just one in a growing number of platforms meant to wirelessly connect large numbers of devices, sensors, and appliances in the home so that owners can control them over the Internet, often via a smartphone app. Apple recently announced its HomeKit smart home framework, which would enable users to control smart devices like thermostats, appliances, lights, doors, and security systems from an iPhone.
However, unlike the SmartThings platform, HomeKit isn't looking to be compatible with every device on the market. While Apple won't release many details about HomeKit until iOS 8 launches this fall, it's expected that the framework will support Bluetooth and WiFi-capable devices, but not those running on protocols like ZigBee and Z-Wave. That means that HomeKit, at least as controlled via the iPhone, is likely to only be compatible with hardware by a selection of partnering manufacturers, including Honeywell, Philips, Withings, Schlage, and Cree, which Apple expects to support.
Nest, which was acquired by Google for $3.2 billion in January, announced the Nest Developer Program in June. The program opens the Nest platform up to developers and device manufacturers who can create "Works with Nest" integrations for lights, appliances, and even fitness bands and cars. However, like HomeKit, the Nest platform isn't compatible with the number of communication protocols that SmartThings supports, and from a consumer standpoint, it's more limiting to need to purchase devices that are specifically made to "Work with Nest" than to be able to easily install and connect any of a thousand different devices currently on the market.
While other platforms similar in setup to Nest or HomeKit have been created by others, there are a few available that are more like SmartThings in their aspiration to connect devices running a variety of different communication protocols. With hubs like the Revolv, which features seven radios to be able to connect with almost any smart home device, building a smart home is much simpler than picking and choosing among devices on a single protocol.  Ninja Blocks is another platform looking to connect every device on the market, and notes that its status as an unlimited and open source platform essentially "future proofs" its Ninja Sphere hub.
While some believe that one communication protocol will eventually win out over the others for smart home dominance, in the shorter-term, at least, it seems better for innovation and better for consumers for hubs, frameworks, and platforms to be able to connect and communicate with as many smart home devices and sensors as they can. For the smart home to be accessible, it needs to be straightforward to set up, and easy to customize with the capabilities that each consumer wants. In the next few years, Samsung and SmartThings may find themselves ahead of the pack as consumers look for simpler and more universal platforms to help them build and control the smart home of their (specific) dreams.
More From Tech Cheat Sheet:
Want more great content like this? Sign up here to receive the best of Cheat Sheet delivered daily. No spam; just tailored content straight to your inbox.