Samsung Looks to Boost Sales With iPhone Competitor S5 Mini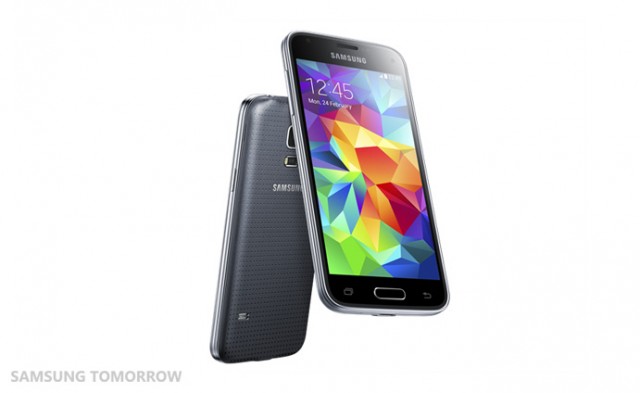 A post on the company's official blog reports that Samsung (SSNLF.PK) has unveiled a smaller version of its Galaxy S5 smartphone. The smaller model, which features a 4.5-inch screen instead of the standard 5.1-inch screen, will launch this month in Russia, and later worldwide. It features a less-powerful 1.4 GHz processor versus the standard S5′s 2.5 GHz processor, and an 8 megapixel camera versus the standard 16 megapixel camera. The phone will also only have 1.5 GB of RAM and and 16 GB of internal storage.
However, the S5 mini will still include the heart-rate sensor, ultra power saving mode, and connectivity with wearable devices that made headlines with the S5. It also carries IP67 certification, which means it's dust and water resistant. The phone will be available in black, white, blue, and gold. "We always strive to develop devices that appeal to a range of consumer tastes and styles," Samsung's mobile chief JK Shin said in the blog post. "The Galaxy S5 mini allows consumers to enjoy the iconic design and essential and useful features of the Galaxy S5 through a maximized minimalism approach."
The phone provides another option for users who don't want a large screen, but still want an up to date phone. It follows the Galaxy S4 mini and the S3 mini, which pared away many flagship features for the scaled-down version of each phone. Instead of following a similar tactic, the S5 mini keeps most of the standard S5 features, instead paring down performance to offer the phone at a lower price tag.
The Galaxy S5 mini will compete with the HTC (HTCXF.PK) One mini 2, which features a 1.2 GHz processor, a 4.5-inch screen, 16 GB of storage, and an aluminum chassis, which compares favorably to the perforated plastic of the S5 mini. The HTC One mini 2 features a 13 megapixel camera, higher than the 8 megapixels that Samsung chose. The S5 mini is also strikingly similar to the iPhone 5S, which has a 4-inch display, an 8 megapixel camera, 1.3 GHz processor, and starts at 16 GB of storage.
Samsung is betting on the S5 mini's plethora of sensors to attract customers looking for a smaller phone. As The Verge puts it, the S5 mini "cuts performance and keeps the gimmicks," referring to the sensors and features that some users have complained don't work well on the flagship S5.
Forbes reports that in May, Samsung sales trailed behind Apple's (NASDAQ:AAPL) sales of the iPhone 5s and 5c in Europe, and of those that did buy a Galaxy S5, 17 percent switched from Apple and 58 percent were previous Samsung owners. And as trends point to consumers wanting larger phones — with many consumers saying that they'd buy an iPhone if Apple offered larger screen sizes — Samsung is targeting customers who want the opposite. The company is likely hoping that the scaled-down S5 mini appeals to customers, like many loyal Apple users, who don't want the larger screen sizes that Android phones by many manufacturers routinely feature.
One of the iPhone 6 models that Apple is expected to release this fall will reportedly feature a 4.7-inch screen, so Samsung's S5 mini is positioned right between the current iPhone models and the smaller of the two models expected to launch this fall. It's an interesting turn of events that the iPhone is growing, while a Samsung model is shrinking, and just shows that both companies are working to capture as much market share as they can.
Though pricing details for the S5 mini haven't been released, the phone should be less expensive than the Apple iPhone, which until the 5c, has always been positioned as a premium product. Samsung's strategy is to create a truly mid-range phone, combining a smaller screen with flagship sensors and features, plus a lower price to boost its sales to compete with nine-month old models of Apple's iPhone. Samsung will try to get ahead as Apple prepares to make headlines this fall with the iPhone 6 and other expected product launches, and consumers' reception of the S5 mini will determine whether the tactic is successful or not.
More From Wall St. Cheat Sheet: