Samsung's ITC Apple Ban: Too Little, Too Late
Samsung (SSNLF.PK) is seeking an International Trade Commission U.S. import ban on Apple (NASDAQ:AAPL) devices that contain an alleged patent-infringing technology. The technology is related to the Universal Mobile Telecommunications System, or UMTS, and is found in Apple devices that utilize an "Infineon-made communications chip" reports Apple Insider.
According to Florian Mueller at Foss Patents, this chip enables UMTS connectivity for Apple devices on AT&T's (NYSE:T) network. At the time of Samsung's original complaint, AT&T was the only carrier that offered iPhones and iPads with UMTS connectivity. In papers filed with the ITC, Samsung has requested that a potential import ban be expanded to include all infringing devices, "regardless of carrier."
As stated in Samsung's filing via Foss Patents, "Apple has expanded its sales to other UMTS carriers. Because all iPhone 4 (UMTS version) and iPad 2 (UMTS version) devices infringe the asserted claims of the '348 patent, regardless of carrier customer, they would be subject to the Commission's remedial orders."
However, in the same filing via Foss Patents, Samsung also states, "Based on Samsung's understanding, the current configurations of the iPhone 4 (CDMA version), iPhone 4S, iPhone 5, iPad 2 (CDMA version), iPad (third and fourth generations) and iPad mini contain [REDACTED]. Accordingly, unless these devices are altered to incorporate [REDACTED], they would not be subject to an exclusion order or cease and desist order. Similarly, future devices incorporating [REDACTED] would not be subject to an exclusion order or cease and desist order." In other words, any possible import ban would not even affect Apple's latest generation of devices.
According to Apple Insider, the newer versions of the iPhone and iPad utilize a Qualcomm (NASDAQ:QCOM) chip that does not infringe on Samsung's patent. Apple no longer sells the iPhone 3G, iPhone 3GS, or the original iPad, which makes Samsung's patent-infringement claim practically moot.
However, the iPhone 4 and iPad 2 could be affected by the import ban, although this is unlikely considering the relatively short sales cycle of mobile devices. The ITC is expected to make a final decision on the case by May 31.
Apple shares on Friday closed down $4.52, or 1.06 percent, at $423.20.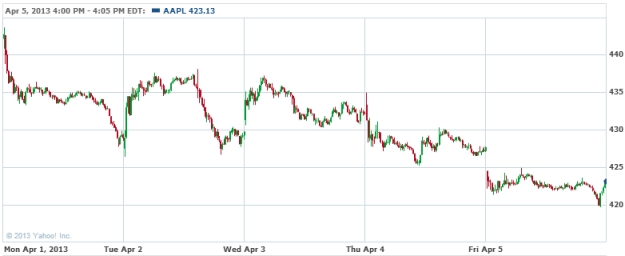 Don't Miss: Here's What Apple Is Spending $5 Billion On, and It's Not a Dividend.