Should Aspiring Writers Choose Tumblr or Medium?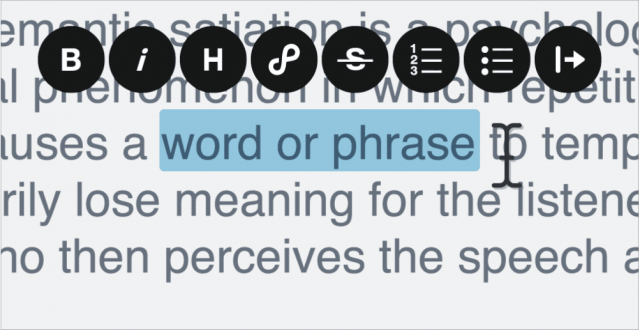 Tumblr is updating its user interface and redesigning its text editor, all in pursuit of a desirable set of content creators: writers. While the blogging service is extremely popular, the vast majority of its post take the form of small bits of media: photos, quotes, animated GIFs, and songs. But the platform's latest update introduces tools that put a new emphasis on writing, signaling Tumblr's interest in capturing the same audience of writers and readers that has congregated around Medium, a publishing platform launched in 2012 by former Twitter chief executive Evan Williams. As Sarah Perez reports for TechCrunch, Tumblr has begun rolling out updates to its online blogging platform that will make the interface more useful for content creators — specifically those who write long-from content — and takes cues from Medium's clean user interface.
A post on Tumblr's staff blog teased the changes with an animation of a rich text editor, and was followed up by a later post on the platform's "big update." Tumblr explained that updates to its user interface introduced "new ways to structure your work, like subheads and horizontal lines. Coming soon: some real crafty shit. Whatever you want to write—simple things, flashy things, handsome things, trashy things—now you can write the hell out of it."
The updated Tumblr editor enables users to make formatting and style changes as they compose a blog post, using a pop-up interface that appears when they highlight a word or string of text. As Perez points out, the new Tumblr editor isn't necessarily more useful than the previous version — in which the formatting buttons are placed at the top of the writing window — but the changes do make Tumblr's interface a more visually appealing writing environment.
The new features introduced into Tumblr's updated text editor make the interface strikingly similar to Medium's formatting tool, which also pops up when the user highlights a string of text. (Though Medium's formatting bar appears as a unit, while Tumblr's buttons roll in one by one.) In the future, what users will see when writing in Tumblr's text editor will be exactly what a post looks like once it's been published, a concept that also seems borrowed from Medium's WYSIWYG (what you see is what you get) interface.
In the near future, Tumblr's text editor will also add more ways to format posts, including options like subheads.  Tumblr is already enabling users to add images, videos, and other embeddable media at any point in a post, using a new + button that appears when they begin a new line of text. Perez notes that this change also seems to be inspired by Medium, which uses a similar button to reveal embed options.
While these changes should make it easier to write long-form content on Tumblr, Medium still offers a more minimal interface for writing, with fewer buttons and distractions on the page where writers compose their thoughts. Medium also offers a commenting system that Tumblr doesn't replicate.  Tumblr's changes come in the wake of its announcement of the Creatrs program which will connect "emerging creatives" and content creators with causes, events, arts, education opportunities, advertising campaigns, and media partnerships — which seems intended to function as a new sort of advertising agency, drawing on Tumblr's talent.
Which metric?
Medium sits at the center of a debate over whether we're measuring the value of media correctly. Is a site's growing number of visitors what matters most, or is the amount of time that users spend with a platform a better indication of its value?
As Mashable reported in December, Medium had 17 million monthly unique visitors each month at the time — which Perez points out is just a fraction of Tumblr's 420 million monthly uniques and 220.8 million blogs. But that's not the whole picture, even as Medium continues to grow, with Williams writing on January 5 that the platform had recently seen its biggest week ever, measured by the number of unique visitors. The surge of visitors that week arrived largely from a post that went viral on Facebook, and stayed for just a fraction of the time that the average user stays. So Medium prefers another metric: total time reading, which measures the time that people spend on story pages.
But as Williams explains, measuring time isn't actually measuring value, but instead is measuring cost as a proxy for value. Writers don't really want readers' time — they want to change how readers think. "At Medium, we don't really want anyone's time. We want to create a platform that enables people to make an impression on others. To make them think. To change their minds. To teach them something or connect emotionally. It's hard to measure any of that."
And it's even harder for writers to measure on Tumblr than on Medium. Writers on Tumblr have only "notes," the count of people who liked or reblogged their content, to gauge their influence on the platform. Medium goes a little deeper, showing the writer a section of "Stats" on how many views, reads, and recommendations his or her stories have gathered. Medium also shows the user the read ratio for each of his pieces — the proportion of people who actually read through the story instead of just viewing the page.
Publisher or platform?
Along with the debate over how to measure users' engagement with a site comes a debate over what sites like Medium really are. Mashable notes that in 2014, Medium became a destination for notable writers and a platform for many noted individuals outside the journalism world to publish their thoughts. Medium's in-house verticals like Matter and Backchannel have helped it to gain a reputation as a destination for its quality content, and the trust that readers place in Medium's well-known contributors often helps them give less-familiar voices a chance.
Medium's nature as both a publisher and a platform has sparked much speculation over what it is and what it will become. Depending on whom you ask, Medium could grow into a WordPress-like platform, or take on a Forbes-esque model of building a professional staff supplemented by outside contributions. But Josh Elman, who sits on Medium's board of directors, tells Mashable that the company is focused on the platform. He says that Medium is  "laser focused on becoming that place where people can publish content, and they've just made great strides in continuing to evolve what that means." To Williams, it entails extending Medium's from longform pieces to lightweight pieces, which generate discussion and debate, and making the platform more collaborative.
While Tumblr isn't a platform where users expect to encounter (or engage with) long form stories, its path to enabling collaboration and helping content creators engage their audience is indirect. Users of the site generally consume content through their Dashboard, where long posts are truncated, and users have to click through to the blog to read the entire post. From the Dashboard or from an individual blog, users can "reblog" each other's content, reposting others' original content and appending their own thoughts and additions to it.
The shelf life of Tumblr content is long, stretching far beyond the freshness of a Facebook post or a tweet, and the popularity of a post — whether a GIF, a photo, or a thousand-word essay — can snowball over a span of days, weeks, or months. However, the proportion of Tumblr users likely to circulate a longform essay seems fairly slim — making Tumblr a platform that may be attractive to writers of longform pieces only if they can attract a robust niche audience to their own blog.
Consider the audience and tools
Unknown writers on Medium can not only take advantage of the site's formatting tools to create an impressive and professional piece of content, but can see their pieces added to relevant collections and read by a few hundred or thousand people. The appeal of Medium for aspiring writers is that, in the absence of payment for their work, they can gain the tools to create polished content and the audience to consume it.
Aileen Gallagher, writing at Poynter, compares the situation for unknown writers at Medium to the state of affairs on platforms like Creatavist, Gawker's Kinja, or Buzzfeed Community: the publisher gets free or low-cost content and the writer gets a content management system that lends his or her writing a "professional veneer." While there are obvious differences in their models — Atavist licenses its Creatavist platform to paying customers and Gawker compensates select Kinja contributers, for example — Gallagher says all of these "platishers," a term cobbled together from "platform" and "publisher," institutionalize a two-tiered system of content creators.
The majority of content creators have something to say and no high-profile outlet of their own, so they eschew traditional editorial structures and publish their content themselves. But it's the writers who work within a traditional editorial framework who get paid. Medium's director of content, Kate Lee, tells Gallagher that amateur writers are attracted to platforms like Medium because they look and work better than a Tumblr or WordPress blog, and offer the prospect of a larger audience than would be attracted to an individual blog or website. Amateur writers who aspire to earn money writing can use platforms like Medium or Kinja to attract the attention of an editor in a way that would be difficult to do with a blog on Tumblr.
While the open nature of such platforms enables anyone to publish, Gallagher notes that it doesn't enable everyone to flourish, and for many the appeal is simply to see their work next to the work of professional writers. Despite individual success stories of Tumblr blogs turned into book deals or Medium posts that led to contracts, both platforms can be hit-and-miss for writers, who will find that they need a measure of luck to get noticed on either. The question for writers is which platform can deliver the better tools and audience for the kind of work they want to publish — and it seems that both Tumblr and Medium are still working to become the more attractive platform.
More from Tech Cheat Sheet:
Want more great content like this? Sign up here to receive the best of Cheat Sheet delivered daily. No spam; just tailored content straight to your inbox.