Signs Google Glass is Coming Sooner than You Think
Google (NASDAQ:GOOG) has started naming winners of its Glass Explorers competition. The competition does not hand out free pair of Google Glass to its winners but instead gives the winners a "VIP pass" to be one of the first purchasers of the special "Glass Explorer Edition" of the high-tech spectacles  According to TechCrunch, a Standford PhD student–Andrej Karpathy–has used Twitter's API to build a list of some of the 4,200+ so far who have won the first adopter competition. Google has not announced yet that all the winners of the competition have been named. The last tweet from the Google Twitter account used for the competition, @projectglass, says "#ifihadglass invitations are still being rolled out. We'll let you know when we've sent the last one."
The #ifihadglass campaign Google launched through Twitter has attracted interest from a wide range of the early-adopter types marketers love so much. Some of the winners of the Glass Explorers competition are well known. To be considered for entry, a tweet including the "#ifihadglass" hash-tag is sent @ Google's twitter for the competition along with what the person would do with them if they won the chance to buy them before everyone else. Newt Gingrich, former Speaker of the House, has won. He said "i would take it on tours of zoos and museums to share the animals and fossils" as part of his Twitter entry. Singer and songwriter Imogen Heap has also won, with her entry including "[I would] hook them up w/my gloves to help me navigate music making in 3D."
Google Glass will be manufactured in the United States by Foxconn, according to Time. The production facility will be in Santa Clara, California. Foxconn, perhaps most wellknown (or infamous, depending on who you ask) for its production of Apple's iPhone, already operates subsidiary manufacturing facilities in Indiana and Texas. A Foxconn spokesperson recently told Bloomberg, "We are looking at doing more manufacturing in the U.S. because, in general, customers want more to be done there."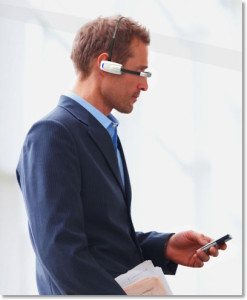 The first developer units of Google Glass are expected to cost $1,500, according to Forbes. However, Google's glasses will not be the only wearable computer product or "smart glasses" on the market when it is released before the end of the year. Forbes says that Vuzix is making a product called the M100 and will soon be shipping prototype models to developers. Apple and Microsoft have also filed patents outlining similar systems but have not announced anything.
As computer technology continues shrinking in size, a whole array of wearable technology is on the horizon. While "smart watches" have yet to take off, they are definitely coming. The price of Google Glass will have to drop considerably from the $1,500 early developers will have to pay to get their hands on them but in a few years time, a pair of smart glasses on the face, a smart watch on the wrist and a smartphone in the pocket could be the new norm.
Don't Miss: Is Google Glass Stealing This Apple Partner?