Size of Payout to E-Books Customers Hinges on Apple's Appeal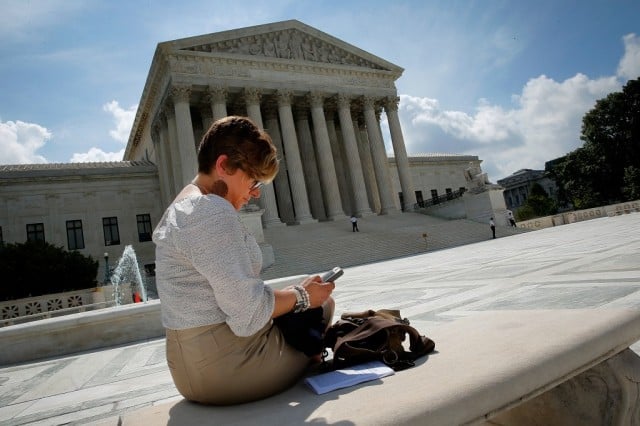 Consumers that were allegedly harmed by Apple's illegal e-book price-fixing conspiracy may finally be getting their money. U.S. District Judge Denise Cote recently granted Apple final approval of its offer to pay $450 million to settle the damages claims that followed last year's finding that the company violated antitrust laws by orchestrating an e-books price-fixing conspiracy with five publishers, reports Publishers Weekly. However, the deal has one important caveat: the size of the final payout will depend on the success of Apple's appeal of the court's original liability finding.
As noted by Publishers Weekly, there are three possible outcomes under the terms of this deal. The first outcome — and the worst from Apple's perspective — would be that the Second U.S. Circuit Court of Appeals upholds Judge Cote's liability finding. This would mean that Apple would pay $50 million to the lawyers who litigated the case and $400 million to consumers. The second possible outcome would be that the appeals court vacates the liability issue and sends the case back Judge Cote, possibly for a new trial. This would result in Apple paying $20 million to lawyers and $50 million to consumers. The third outcome — and the best from Apple's perspective — would be if the liability finding is reversed by the appeals court. This would result in Apple having to pay nothing.
However, even the first outcome would not result in a huge windfall for any e-books customers who may have been affected by Apple's price-fixing scheme. According to the firm handling the settlement fund, approximately 23 million customer accounts are eligible for any potential payout from Apple, reports Publishers Weekly. This means that each account would receive a check or credit for a little over $17 if Apple is forced to pay the full $400 million amount to consumers. On the other hand, a $50 million settlement to consumers would result in a little over $2 being paid into each account. While it is likely that many consumers hold multiple accounts at different retailers, obviously no one is getting rich off Apple's compensation.
Judge Cote called the deal an "unusually structured settlement, especially for one arrived at on the eve of trial," reports Reuters. Earlier this year, Cote expressed her reservations about the provision in the agreement that could reduce Apple's payout to $70 million if the case was remanded over a minor issue. However, on Friday she said she understood the plaintiffs' willingness to take that chance, considering Apple's delay tactics. Steve Berman — one of the lawyers pursuing the class action against Apple — previously told Judge Cote that he believed that it was "unlikely" that the case would be returned for further proceedings or a new trial, reports Reuters.
Although the plaintiffs' lawyers are confident that Apple will lose its appeal, it could still be years before any consumers see a penny from Apple. While the Second U.S. Circuit Court of Appeals is scheduled to hear Apple's initial appeal on December 15, the case could potentially be appealed all the way to the Supreme Court.
The damages claims against Apple are the result of a successful antitrust lawsuit the U.S. Department of Justice and states attorneys general filed against the company last year. In that case, Judge Cote found that the Apple coordinated use of agency model contracts with the five publishers to combat Amazon's policy of selling e-books at a standard price of $9.99. The publishers were CBS' Simon & Schuster; Lagardere SCA's Hachette Book Group, Inc .; News Corp.'s HarperCollins; Penguin Group; and Holtzbrinck Publishers' Macmillan. As noted by the Hagens Berman law firm, those five publishers have already agreed to pay consumers $166 million. According to Bloomberg, Apple was originally facing potential damages claims of $840 million, so any of the three possible outcomes could be considered a victory for the California-based company at this point.
Follow Nathanael on Twitter @ArnoldEtan_WSCS
More from Tech Cheat Sheet: