Slow iPad Mini Demand Pinches This Apple Supplier
Apple's
(NASDAQ:AAPL) device makers presage a greater decline in iPad mini sales? The Taiwan-based
Pegatron Corporation
makes various devices for Apple, including the iPad mini. Pegatron also makes the Surface tablet for
Microsoft
(NASDAQ:MSFT).
Is Apple now a once-in-a-decade buying opportunity? Click here to get your 24-page Ultimate Cheat Sheet to Apple's Stock now!
Pegatron is warning that its second quarter revenue will drop 25 to 30 percent compared to the previous quarter. This will be the biggest decline in revenue that Pegatron has seen since a 37 percent decrease in the last quarter of 2011. Pegatron was spun-off of its parent company, Asustek, in 2010.
Pegatron's CEO, Jason Cheng, believes that the revenue decline can be partly attributed to the falling demand for Apple's iPad mini, although he also cites the overall drop in consumer electronics demand. "Not just tablets, also e-books and games consoles, almost every item is moving in a negative direction," states Cheng via Bloomberg.
According to Cheng, over 50 percent of Pegatron's consumer-electronics revenue is pegged to the production of the iPad mini. Thirty-six percent of Pegatron's overall revenue in the first quarter of 2013 came from its consumer electronics division according to the company's quarterly report.
Pegatron joins a growing group of Chinese manufacturers that have recently seen revenue decreases directly related to slowing demand for Apple's products. Hon Hai Precision Industry Co., Ltd., which is more commonly known as Foxconn, has seen this year's first-quarter revenue drop by 19 percent. Foxconn manufactures Apple's iPad and iPhone 5 products.
Despite the recent drop in iPad mini demand, Apple's overseas product orders may soon be increasing. Many analysts anticipate new product releases from Apple in the fall and early 2014.
NEW! Discover a new stock idea each week for less than the cost of 1 trade. CLICK HERE for your Weekly Stock Cheat Sheets NOW!
Here's how Apple stock has traded so far this week.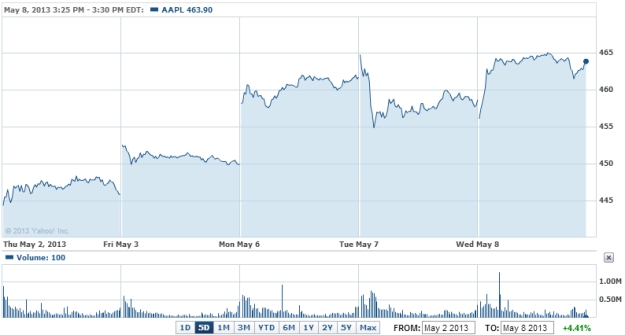 Don't Miss: Will Apple's iPads Make Flying Cheaper?
Does this significant quarterly revenue drop from one of