Slowing Growth: Is It Time For Apple To Ripen?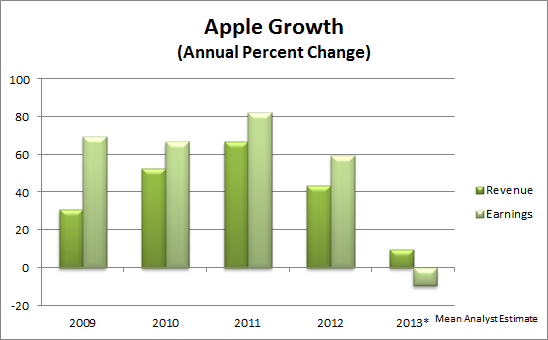 Apple (NASDAQ:AAPL) is growing up. If analyst estimates for fiscal 2013 prove to be even remotely correct, the company is entering the awkward years between being a growth stock and a blue chip. Annual revenue and earnings growth declined in 2012, and is expected to decline dramatically in 2013.
As a result, the way investors are thinking about Apple as a company and as a stock are changing. The company is expected to transition slowly away from a product-cycle-driven, hardware-focused computer company to a software and services company. This means flatter quarterly revenues and steadier earnings. This means appealing to shareholders not through share price growth but through dividends — as announced in the last earnings report.
What's more, margins are falling to more sustainable levels. Apple lost 9.9 percentage points off its gross margin last quarter, and is expecting it to fall between 50 and 100 basis points further. Year over year revenue growth in the next quarter is expected to be just 1 percent.
All this slowness is by no means a bad thing. Investors would probably be more worried if the company could somehow maintain 47 percent gross margins and 40 percent-plus revenue and earnings growth for even a few more years. The company would grow to such an insane size that it would probably accidentally crush the markets when it rolled over.
As it stands, this slowdown in growth has already catalyzed a substantial increase in the company's capital return program. If Apple is smart — and all evidence points to that being true — the company will make sure to keep its stock attractive relative to others on the market. It has the cash to do this through capital returns, as it has just proven, and it still has a position at the top of the market.
On the company's earnings call, CEO Tim Cook seemed to say that Apple needed some more time before it released any cool new products. What's more, it is pretty clear that the company will need several quarters, if not a few years, to pull a new iRabbit out of its hat. Just like products, broad tech-industry innovation seems to move in cycles. If one is coming toward a close, then Apple will mature until the next one.
At that point, it will either prove its dominance again, or contend with whatever company is the next Apple.
Don't Miss: Why is Apple's iPhone Selling at a Snail's Pace?