Smartphones Outshine Feature Phones in 2013
Smartphone shipments took the lead over traditional feature phones in the worldwide mobile phone market for the first time ever according to research firm IDC. Smartphones accounted for 216.2 million of the 418.6 million total numbers of mobile phones that were shipped in the first quarter of 2013. In other words, smartphones accounted for 51.6 percent of the global mobile phone shipments in 1Q13. Although this was a 41.6 percent increase over the shipment numbers for the same quarter last year, it was still lower than the 227.8 million smartphones that were shipped in the last quarter of 2012.
Smartphones may have taken the lead in the mobile phone market, but the overall growth of the mobile phone market was rather stagnant in Q113. According to IDC, the overall worldwide mobile phone market has only grown by 4 percent since Q112.
Regarding the growing popularity of smartphones, IDC senior analyst Kevin Restivo commented that "Phone users want computers in their pockets. The days where phones are used primarily to make phone calls and send text messages are quickly fading away. As a result, the balance of smartphone power has shifted to phone makers that are most dependent on smartphones."
Although Apple (NASDAQ:AAPL) reported iPhone sales increased to 37.4 million from 35.1 million over the same quarter last year, these sales figures only gave the Cupertino-based company a 6.6 percent year-over-year growth rate. Apple hasn't seen single-digit year-over-year growth since the third quarter of 2009, reports IDC. Despite the increase in iPhone shipments, Apple's percentage of the worldwide smartphone market share decreased to 17.3 percent from 23 percent in the same quarter last year. Excluding the "Others" category, Apple was the only smartphone maker to see a decline in its overall smartphone market share.
However, Apple did slightly increase its share of the overall mobile phone market from 8.7 percent in last year's quarter to 8.9 percent in this year's quarter.
Apple's decreased smartphone market share contrasts with Samsung's (SSNLF.PK) smartphone market share increase from 28.8 percent in 1Q12, to 32.7 percent in 1Q13. Samsung continues to dominate overall smartphone shipment numbers, increasing its shipments from 44 million in 1Q12 to 70.7 million in 1Q13. However, it should also be noted that Samsung does not release its own shipment statistics.
South Korean phone maker LG claimed a 4.8 percent piece of the smartphone market, while Chinese manufacturers Huawei and ZTE claimed 4.6 and 4.2 percent respectively. Huawei's market share increased 1.3 percent over last year's market share. This clearly illustrates China's increasing importance as an emerging market for smartphones.
Will Apple be able to regain its year-over-year double-digit growth? Part of the solution may lie in China's growing appetite for quality smartphones. Although many analysts have argued that Apple must release a cheaper iPhone in order to better penetrate developing markets, it remains to be seen if the Cupertino-based company will take this advice to heart.
Here's how Apple has been trading throughout the week.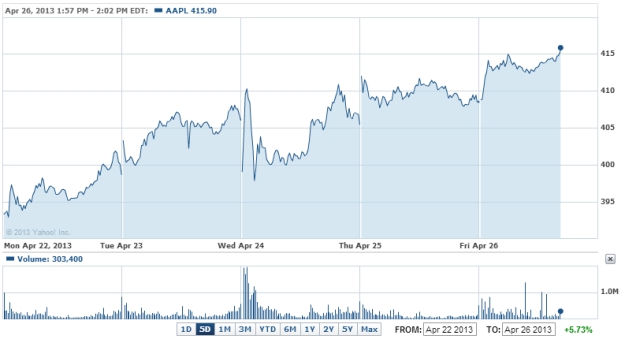 Don't Miss: Will This Ad Make You Buy an iPhone?