So Why Did Apple Close at Exactly $500?
Apple's (NASDAQ:AAPL) finish at exactly $500.00 on Friday, the day call options for the stock expired, may not be rooted in a conspiracy, but it can be explained by strike pinning.
Strike pinning in basically the tendency of a stock's price to close near the strike price of heavily traded options. It's not a conspiracy or a deliberate plan, but just an incidental result of hedge rebalancing. When market participants have a larger-than-normal interest on particular strikes, the mere act of re-adjusting their positions as the options expired often leads to the stocks to pin those levels, according to Risk Reversal.com's Enis Taner.
Should you buy or sell Apple's stock ahead of earnings in a few days? Our 20-page proprietary analysis will help you save time and make money. Click here to get your SPECIAL REPORT now.
"Notice how the $500 level has acted as a magnet over the course of the week," Taner wrote about Apple in CNBC last week. "Sure, there have been numerous headlines driving the stock up and down in the past week, but why does it keep converging on $500?"
Here's a glimpse of Apple's week: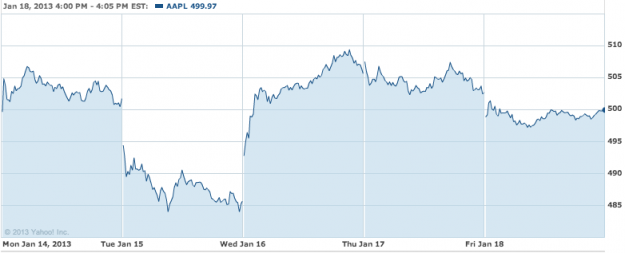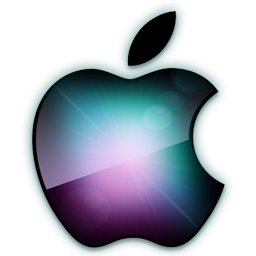 According to Taner, both the "actual effect of options expiration (the 500 strike has more than double the open interest of any other strike) and the anticipated potential pin by other traders" causes the price to keep hovering around or at $500.
Start 2013 better than ever by saving time and making money with your Limited Time Offer for our highly-acclaimed Stock Picker Newsletter. Click here for our fresh Feature Stock Pick now!
It does have a beneficial effect for those who own the stock now. If Apple's first-quarter earnings on Wednesday turn out to be a positive catalyst and the stock rises, institutional shareholders can potentially earn quite a profit. Thus, while pinning the stock down may have resulted in some small losses then, there is potential for much higher gains in the coming week.
Don't Miss: Here's a Vote of No-Confidence for Apple.