Yesterday I said when "companies such as LinkedIn (NYSE:LNKD) don't have much fundamental support for their stock valuations, technical analysis can play a very influential role … If LinkedIn breaches the levee around $84 we should test the 52-week low of $80. If that critical level fails, there is no telling where the stock will trade until it finds a new value supported by traders and investors."
Well, it didn't take long for that levee to break. LinkedIn (NYSE:LNKD) is now trading below $77 a share. This is bad news as everyone who bought shares on the New York Stock Exchange (NYSE:NYX) now have a losing investment.
We are now set for a classic battle between ignorant investors who will panic and sell their shares versus professional investors who step in to buy. However, if the pros don't have a taste for a stock still $30 more expensive than the high range $45 a share LinkedIn (NYSE:LNKD) received from the underwriters, this stock could float a lot lower before finding a real solid base of buyers.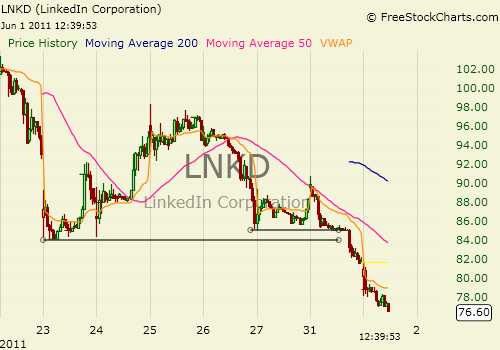 Get Actionable Investing Insights: Check Out Wall St. Cheat Sheet's newest Feature Trades of the Month!