Sprint Gets a New Phone and 2 Telecom Stocks Seeing Action
Vodafone (NASDAQ:VOD): As reported by the Financial Times this morning, Verizon Communications (NYSE:VZ) and AT&T (NYSE:T) are to put forward a bid to split up the UK's Vodafone Group. The Wall Street Journal later said the proposed deal will be pitched at a 40 percent premium to Vodafone's current price and will see Verizon Communications buying Verizon Wireless and Vodafone's U.S. assets and AT&T taking Vodafone's European assets.

Verizon Communications (NYSE:VZ): Verizon Communications and New York City will test to more quickly install fiber-optic cables under sidewalks, Bloomberg said. The program will let Verizon use "micro-trenching" or "saw cutting" methods, or basically carve shallow grooves out of the ground in order to open space for cables. The trial will start with 12 sites across the five boroughs.

Sprint (NYSE:S): Sprint will start taking pre-orders for the HTC One smartphone on April 5, with users able to go online or into a store to pick their device up starting April 19. Since the 64GB is an AT&T exclusive, Sprint customers will only be able to buy it in 32GB for $200, Engadget said.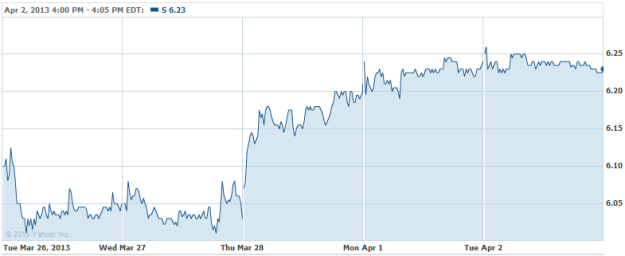 Investing Insights: Will Research In Motion Surge Higher?