Stay Patient, Apple Investors
Apple (NASDAQ:AAPL) stock has climbed just over 10 percent since it released earnings on April 24, and has once again broken above its 50-day moving average. At a glance, the results came in ahead of expectations, came paired with a record-setting capital return program, and still failed to convert some skeptics.
One of the negative highlights of the report is a 9.9 percentage point drop in gross margin compared to the year-ago period. The decline was cited by BMO Capital Markets analyst Keith Bachman when he downgraded the stock from Outperform to Market Perform, and lowered his price target from $440 to $435, about 5.4 percent below the stock's closing price on Monday.
| | | | | | | |
| --- | --- | --- | --- | --- | --- | --- |
| | Mar. 31, 2012 | Jun. 30, 2012 | Sep. 30, 2012 | Dec. 31, 2012 | Mar. 31, 2013 | Jun. 30, 2012 (guidance) |
| Gross Margin (%) | 47.4 | 42.8 | 40.0 | 38.6 |  37.5 |  36 to 37 |
Apple has historically claimed such a tremendous share of the profits in its industry that it had no reasonable direction to go but down. This downward margin pressure is hardly surprising, but it is forcing investors and analysts to rethink how they value the company.

With margins falling to more sustainable levels, Apple's board decided to put a floor beneath the stock with a tremendous capital return program. The company increased the size of its share repurchase program from $10 billion to $60 billion. On top of this, Apple announced that it will increase its quarterly dividend by 15 percent.
Ostensibly, this gives Apple longs a good reason to hold on to the stock despite what many consider to be an underwhelming (more like unknown) product pipeline. Ben Reitzes, an analyst at Barclays, cited "investor apathy" about the new product cycle in a note published on Monday. In the same note, Reitzes argues that the stock is underappreciated by these same apathetic investors, and increased his price target from $465 to $525.
The moral of the story is that Apple is not the obvious investment that it once was. Investors need to think differently about the stock and the company, and they need to look farther than the next iPad or iPhone refresh if they are going to build a competent long position.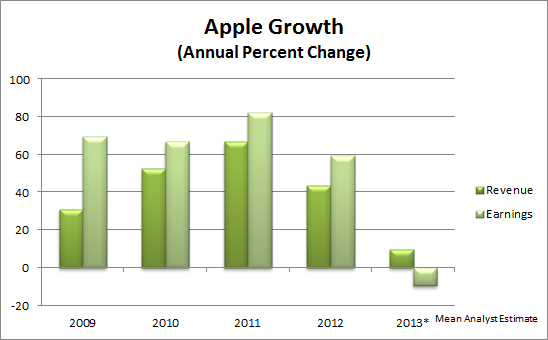 Don't Miss: Analyst: Apple Doubles Up on iPad Mini Refreshes.