Surface Pro 3 vs. iPad Air: The Race to Replace Your Laptop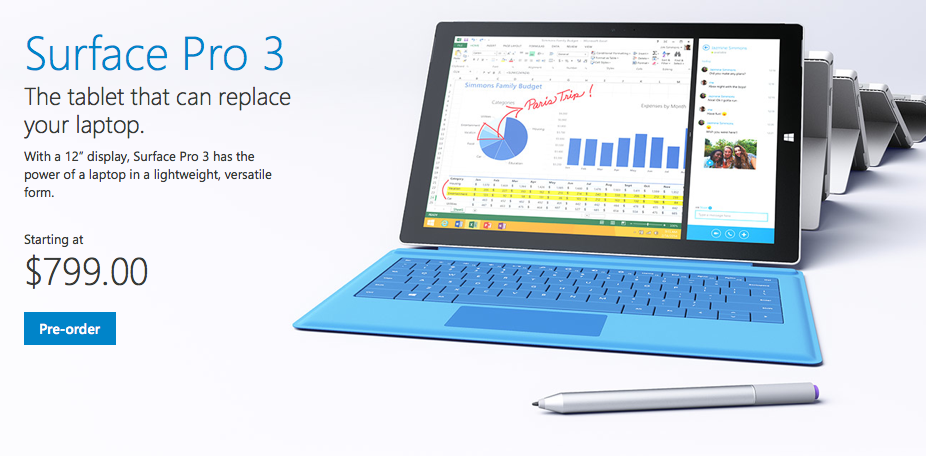 The Microsoft (NASDAQ:MSFT) Surface Pro 3 machine is now available for pre-order. At the latest, Surface Pro 3 tablets will ship by August 31, 2014. Surface Pro 3 tablets price out for between $799.00 and $1,949.00. Surface Pro 3 covers, which also double as keyboards, retail for $129.99. Microsoft has aggressively marketed the Surface Pro 3 as "the tablet that can replace your laptop."
In recent weeks, the technology commentariat has literally tripped over its own two feet to compare the Surface Pro 3 to the MacBook Pro. Microsoft and the pundits, however, may have put the cart before the horse. Recent Office for Apple (NASDAQ:AAPL) iPad software release may have already stymied Surface Pro 3 sales.
Apple iPad Is the Pace Setter
| | | | | | | |
| --- | --- | --- | --- | --- | --- | --- |
| | 2010 | 2011 | 2012 | 2013 | Q2 2013 | Q2 2014 |
| Apple Revenue | $65.2B | $108.2B | $156.5B | $170.9B | $43.6B | $45.6B |
| iPad Revenue | $5.0B | $19.2B | $30.9B | $32.0B | $8.7B | $7.6B |
| iPad Unit Sales | 7.5M | 32.9M | 58.3M | 71.0M | 19.5M | 16.4M |
| iPad Revenue Per Unit Sold | $666.67 | $583.59 | $530.02 | $450.70 | $446.15 | $463.41 |
| iPad % of Apple Revenue | 7.7% | 17.7% | 19.7% | 18.7% | 20.0% | 16.7% |
Source: Apple Earnings Releases and SEC Filings
On May 1, 2014, research firm International Data Corporation published a report that identified the top five tablet vendors, according to unit shipments, through the first calendar quarter of 2014. A quick review of the report would highlight the presence of the iOS-Android duopoly that has dominated the mobile market. Last quarter, Apple shipped 16.4 million tablet units, which did calculate out to a 32.5 percent share of the market. Meanwhile, IDC reported that Samsung shipped 11.2 million tablet units for a 22.3 percent share of the Q1 2014 market. Microsoft, despite its hefty cash pile, could not outmuscle Amazon for a relatively lowly fifth-place within the tablet market. For Q1 2014, Amazon shipped 1 million tablet units for 1.9 percent of the market.
In any event, the Apple iPad will remain the most formidable competitor to the Microsoft Surface Pro 3. Apple iPad revenue per unit sold has remained above $450.00 for the past two years. At this price point, the typical tablet consumer may be in the market for a 16GB Apple iPad Air, which now retails for $499.00. The 9.7-inch iPad Air displays graphics at 2048 x 1536 pixel resolution. The iPad Air may convert into a camera that takes 5-megapixel photographs and records 1080-pixel high-definition video. For the sake of comparison, the 64GB Surface Pro 3 now retails for $799.00. The 12-inch Surface Pro 3 screen presents images in 2160 x 1440 pixel resolution. The Surface Pro 3 may also convert into a 5-mp camera and 1080p HD video recorder. On paper, Surface Pro 3 specifications may not justify the additional $300 price above the 16GB Apple iPad Air.
Be further advised that Microsoft has recently made its Office software available for Apple iPad users. Free versions of Office for iPad are now available in three separate Office, Power Point, and Excel applications. The free versions of Office are somewhat limited, but do allow iPad owners to retrieve, view, and share documents. Microsoft requires iPad owners to purchase Office 365 subscriptions to create, format, and edit documents. Office 365 subscriptions do begin at $6.99 per month. In any event, Office for iPad all but eliminates any competitive advantage that the Surface Pro 3 may have leveraged over Apple.
The Bottom Line
Microsoft brass must now grapple with the Catch-22 scenario of failing to gain traction in mobile amid PC market secular decline. An April 9, 2014 report out of research firm Gartner estimated that global PC shipments deteriorated by 1.7 percent through the first calendar quarter of 2014. Gartner actually credited the recent termination of Windows XP Support for easing the "severity of the decline." In 2014, Microsoft began to divide its businesses into two separate Commercial and Devices classifications. Last quarter, the Commercial Licensing operating segment accounted for $9.4 billion out of Microsoft's $14.5 billion in Q3 2014 gross margins. The Commercial Licensing unit was created to include server products, alongside volume Office and Windows licensing sales.
Xbox gaming and Surface tablet sales have been combined beneath the Devices and Consumer Hardware operating segment. Still, Devices and Consumer Hardware generated a mere $258 million in gross margins off $2.0 billion in Q3 2014 revenue. In all, Devices and Consumer Hardware accounted for $875 million in gross margins upon $8.2 billion in revenue through the first nine months of fiscal 2014. Again, the Microsoft Surface Pro 3 will have little to no effect on the balance of these figures, as the Windows tablet will be largely undercut by Office for iPad. Without a blockbuster hit, Microsoft shares will simply track the S&P 500 Index, while the company returns greater amounts of capital back to shareholders through buybacks and dividends.
More From Wall St. Cheat Sheet: