T-Mobile Joins the Apple Party
T-Mobile is debuting pre-orders for the iPhone 5 through its website today in anticipation of the handset's official release on April 12. T-Mobile is the last of the four major carriers to offer Apple's (NASDAQ:AAPL) iPhone after Verizon (NYSE:VZ), Sprint (NYSE:S), and AT&T (NYSE:T). The iPhone 5 is available in three different models; the 16 gigabyte base model, the 32 gigabyte model, and the premium 64 gigabyte model. All versions of the iPhone 5 are being offered in either black or white colors.
All versions of the iPhone 5 offered by T-Mobile also feature two methods of payment. Consumers have the option to either pay the full amount of the phone up front, or they can make a down payment followed by two years of monthly payments. The base 16GB version of the iPhone 5 is offered for a one-time payment of $579.99, or you can pay $99.99 down and $20 a month for 24 months. As pointed out by The Verge, T-Mobile's upfront fee for a 16GB iPhone 5 is "$70 less than an unlocked iPhone 5 bought direct from Apple."
Similarly, the 32GB iPhone 5 can be bought for $679.99 up front or $199.99 down with $20 monthly payments for 24 months. The 64GB iPhone 5 costs $779.00 or $299.99 down with a 2-year $20 monthly payment plan…
T-Mobile has differentiated its iPhone offerings by stressing the fact that it no longer requires customers to sign a long-term contract.
Apple moved down 1.26 percent at $422.33 in early afternoon trading on Friday.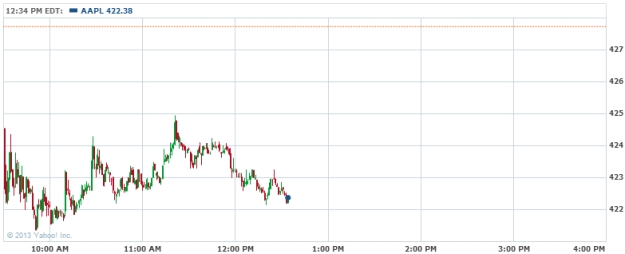 Don't Miss: Is an iPad 5 On The Way?