T-Mobile Wants to Help Give Your Mom an iPhone
Still looking for that perfect Mother's Day gift? T-Mobile would like you to look no further than your local T-Mobile retail store. T-Mobile has been pushing its iPhone 5 sales ever since it first acquired the rights to sell the Apple (NASDAQ:AAPL) device back in April of this year. This weekend's holiday has just given the carrier another excuse to promote the sales of Apple's premium smartphone at all of its company-owned retail locations.
According to TmoNews, the unofficial T-Mobile blog, the carrier is offering a special trade-in deal for the iPhone 5. New and existing qualified customers can bring in their old iPhone 4 or iPhone 4S and receive a trade-in amount that will let them get the iPhone 5 with no down payment. This will also knock the customer's monthly payment down from $20 to $15.
However, before you rush to the nearest T-Mobile store with your waterlogged iPhone, there are a few stipulations to take note of. The trade-in device can't have any "liquid damage or any other physical damage," the screen can't be cracked, and the device must be able to be turned on. As long as you meet these requirements, your GSM and CDMA iPhone 4 and 4S should be accepted as a down payment for a new iPhone 5.
This special T-Mobile offer starts this weekend and will be promoted in several national newspapers. The iPhone "zero-down" promotion will run through June 16. This promotion will likely further increase T-Mobile's already booming iPhone sales.
T-Mobile has been successful in differentiating its iPhone offerings by stressing the fact that it no longer requires customers to sign a long-term contract. After it began selling the iPhone on April 12, T-Mobile sold approximately half a million of the devices in under a month.
Here's how Apple and T-Mobile US have traded so far over the past week.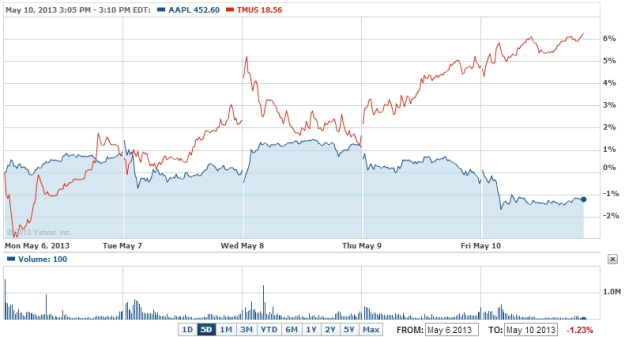 Don't Miss: Apple iTunes to Microsoft: Thanks, But No Thanks.