Tableau's Data Software Shows How Outdated Microsoft Really Is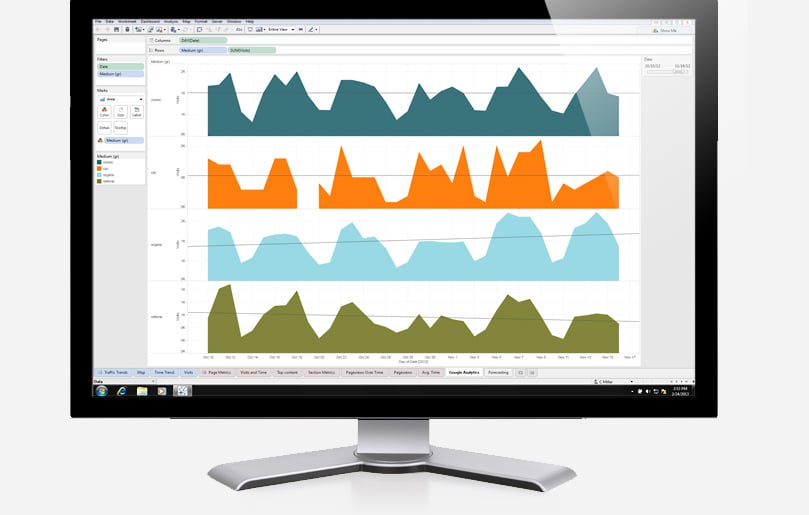 Tableau Software (NYSE:DATA) announced an update to its data visualization software that makes it all too clear that Microsoft's (NASDAQ:MSFT) PowerPoint is no longer compatible with the way that people obtain, analyze, and present data.
As The New York Times reports, Tableau's version 8.2 will enable users to shift from creating individual maps and charts toward using a series of data visualizations to tell a story. The software will enable users to present a case using a series of data points, placing narrative boxes above each illustration to highlight different data points and progress through them to build a case.
This threatens Microsoft's PowerPoint as the presentation standby not because of a slick new interface, or flashy designs for the same, standard charts. Instead, Tableau functions in a fundamentally different way than PowerPoint, easily working with the way that people obtain data online instead of assuming that the data for a presentation has already been collected, downloaded, and arranged.
Imagine the way that you might have assembled data for a presentation five years ago. You probably would have carefully compiled the data you needed, placing numbers in neat columns in an Excel document, perhaps entering them from paper documents or copying them from files that someone had emailed you. You would look carefully at that data and figure out what implications it had for the point you were trying to make. You'd arrange it into the appropriate rows and columns, and then as you created your PowerPoint presentation, you would tell the software exactly what you wanted to appear in the chart, perhaps re-entering data and manually choosing colors and shapes to show the rise of sales numbers or the fall of operating costs.
But the problem is: that's not the way that people work with data anymore.
Today and in the future, when you sit down to make a presentation, you probably don't have all of the data that you might want to visualize already saved in an Excel spreadsheet. You're much more likely to take advantage of the huge amount of data that's available online, and look to pull together data from a variety of sources online to use in your presentation.
Tableau connects users with data sources like spreadsheets, databases, and even sources of big data, allowing them to combine data from all of those different places into comprehensive visualizations and reports. In a video demonstrating how Tableau works, the company shows how the software's capability to use all of that data pushes its visualizations beyond the static bar graphs and pie charts that people are used to embedding in PowerPoint.
Tableau markets its software as a "business intelligence system," and the Tableau Server service offers users the ability to create and share "dashboards" to access their data sets online so that they can collaborate with team members to interpret and visualize data. Tableau says that the feature can scale from companies with small workgroups to businesses with thousands of employees. Completely upending our traditional relationship with data analysis, the software aims to enable users to "ask questions" about their data. They can change parameters and ranges, and use Tableau's ability to automatically revisualize data to find the conclusions that they'd have to know to look for if they were working in Excel or PowerPoint.
Tableau's charts can even illustrate new data as it changes, and the software offers integration with Salesforce (NYSE:CRM), Google (NASDAQ:GOOG) (NASDAQ:GOOGL) Analytics, Google Maps, and other data analytics platforms. Google, in particular, is a popular resource among those looking experimenting with data analysis, and Microsoft's lack of integration with its competitor's data sources is another growing disadvantage for PowerPoint.
So what does this mean for Microsoft? As platforms like Tableau become more common, and data visualization shows up everywhere from from small blogs to features by major news sites, people become more used to interacting with data in ways that PowerPoint can't keep up with. PowerPoint maps and charts can illustrate a point, but they can only illustrate one, static point, and Microsoft doesn't offer tools that enable users to analyze data in the same software that they use to build presentations.
In May, Microsoft announced the introduction of Office Mix, a service that enables teachers to build and share interactive lessons with PowerPoint. While Office Mix lets users add audio and video to presentations, it's truly geared toward education applications, and doesn't add any more useful data analysis or visualization tools that would be useful for businesses.
As CIO points out, Tableau's real competitors in the business intelligence sphere are Qlik (NASDAQ:QLIK) and TIBCO's (NASDAQ:TIBX) Spotfire, which both offer dedicated business analytics platforms much more capable in data analysis and visualization than PowerPoint. Regardless of whether Microsoft looks at the sphere of business analytics and intelligence and considers these more specialized services its direct competitors, it does have to face the reality that creating software for business presentations is now a much more complex game than it was five years ago — and PowerPoint will either need to catch up or be left behind.
More From Wall St. Cheat Sheet: