Taco Bell Sees McDonald's Breakfast and Raises It a Waffle Taco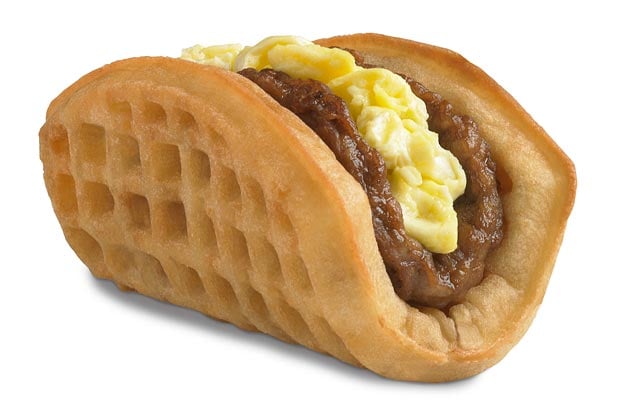 Rise and shine: it looks like McDonald's (NYSE:MCD) isn't the only fast food chain rethinking its breakfast strategy – Yum Brands' (NYSE:YUM) Taco Bell is, too. Can you say waffle taco?
According to the Associated Press, Taco Bell announced early this week that the company is planning to roll out a new breakfast menu in March that will reflect its first ever tango with a.m. eaters. The chain has been testing its menu for months now in select locations, and it will go live nationally on March 27, offering Taco Bell loyals the option of menu items such as the aforementioned waffle taco; bacon and egg burrito; a.m. crunchwrap; and cinnabon delights. Breakfast will also be offered until 11 a.m., thirty minutes later than McDonald's currently serves its last meal. The extended time window may seem trivial, but considering many fast food eaters complain of the earliness of McDonald's breakfast options, Taco Bell could have some happy consumers on its hands when they realize they have until 11 a.m. to make it to the drive-thru.
Many fast food chains, including Taco Bell and McDonald's, have been rethinking their menu strategies, and especially what and when they serve breakfast, because consumers have shown a consistent interest in a.m. fast food, even though the same can't be said for p.m. fare. Thanks to an increase in health-conscious consumers and a minimized interest in eating out, many fast food restaurants are feeling the pinch as their earnings continue to slide, and that's why it's re-thinking breakfast. It's safe to say that as of now, Taco Bell is mostly known as a dinner or late-night snack option, but that could change come March if consumers prove to take a liking to how the chain cooks its eggs.
The problem that many fast food companies face when it comes to offering breakfast is the tight kitchen space it must work with to prepare meals. McDonald's consumers have long petitioned the chain to extend its breakfast hours, but until recently, that wasn't even a possibility because executives explained that its kitchens simply can't handle all the different meals and ingredients. Now, the Oak Brook, Illinois-based company is reportedly looking again at its kitchen operations and reconsidering if it can possibly make a longer breakfast a go, but that reflects McDonald's desperation to resurrect success in the U.S. rather than any solution to the kitchen dilemma.
Taco Bell hasn't remarked how it plans to overcome challenges in its kitchens, but the Associated Press reported Monday that the chain is expected to train existing workers, hire more staff to cover morning shifts, and buy new equipment. Taco Bell is also planning to start serving coffee — starting first with only drip so it will need to bring in new equipment to its nearly 6,000 U.S. locations in order to handle the caffeine options.
As the king of fast food breakfast, McDonald's doesn't seem to be particularly fazed by Taco Bell getting in on the action, with Kevin Newell, U.S. brand and strategy officer for McDonald's, saying in an interview last week that, "I think they're going to find that going into the breakfast business is not like what they're accustomed to, in terms of marketing." However, Taco Bell could still strike breakfast gold with some of its new breakfast items, and its most popular items, the Waffle Taco and A.M. Crunchwrap, are especially expected to impress its fan base of younger men. A Waffle Taco is a waffle wrapped around a sausage patty or beef, with scrambled eggs and cheese, while an A.M. Crunchwrap is scrambled eggs, a hash brown, cheese, and bacon, sausage or steak in a flour tortilla, as reported by the Associated Press.
More From Wall St. Cheat Sheet: