Take a Look at the Numbers that Are Thrilling Facebook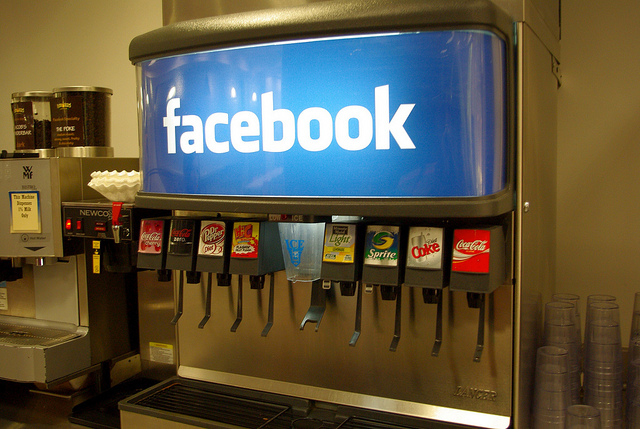 According to a recent eMarketer study, Facebook (NASDAQ:FB) will see huge growth in its share of global mobile ad dollars this year, though Google (NASDAQ:GOOG) will continue to dominate the total mobile ad market.
Facebook is expected to reach a 15.8 percent share in global mobile Internet ad revenue this year, up from 5.35 percent in 2012, the first year Facebook had mobile ads. EMarketer previously estimated the figure would be around 12.9 percent.
Facebook is now second behind Google for mobile ad revenue. Google's search engine and YouTube have helped the company take 52.3 percent of global mobile ad revenue in 2012, a figure eMarketer expects to grow to 53.2 percent for 2013. While Google seems to be far ahead of Facebook for now, it's not showing anywhere near the rate of growth Facebook is.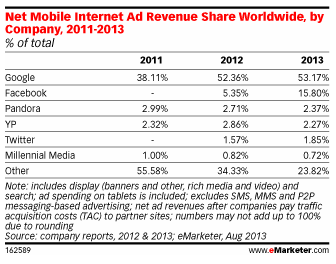 Both companies are also the top digital ad publishers overall. Google is expected to take a 33 percent share of net digital ad revenue worldwide for 2013; Facebook's share is expected to grow from 4.1 percent to 5.4 percent. EMarketer also estimated how much it expects the companies to make from selling digital ads — Google is expected to take in $38.6 billion in revenue from digital advertising in 2013, and Facebook, again coming in second behind Google, is expected to make $6.36 billion.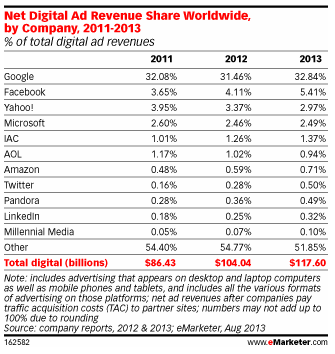 EMarketer noted that it had to increase previous estimates about Facebook's digital and mobile ad performance after the company posted second-quarter earnings that blew analyst expectations out of the water. The company reported that mobile accounted for 41 percent of its total ad revenue for the quarter.
Overall, it's been a great week for Facebook, with the company reaching the $100 billion mark during trading Monday. A number of recent studies showing that users are still highly engaged with the social media site have helped the stock continue to climb after being boosted by the company's earnings report.
A recent comScore study showed that Facebook's mobile user minutes of unique monthly viewers have almost doubled year over year in July, going from 508 minutes to 941 minutes. That growth was at the expense of desktop viewer minutes, but since Facebook's been incredibly successful at mobile monetization, it doesn't have much to worry about with the decline of desktop viewing.
Another eMarketer study showed that almost 100 percent of the people who access social media via mobile do so on Facebook. Twitter, Facebook's biggest rival in the social media world, came in at a distant second even in projections the research firm made going all the way to 2017.
A large body of data is piling up to support CEO Mark Zuckerberg's assertions that people are still as engaged with the site as ever despite speculation that teenagers would tire of being on the same social media network as their parents. Under Zuckerberg's leadership, Facebook has not only managed to make itself a crucial means of communication but has also achieved the more difficult goal of monetizing its service in a way that hasn't driven away users.
Follow Jacqueline on Twitter @Jacqui_WSCS
Don't Miss: Here's the Top Ranking Apple Could Do Without.