Telecom's Big Four Team Up For Texting and Driving Campaign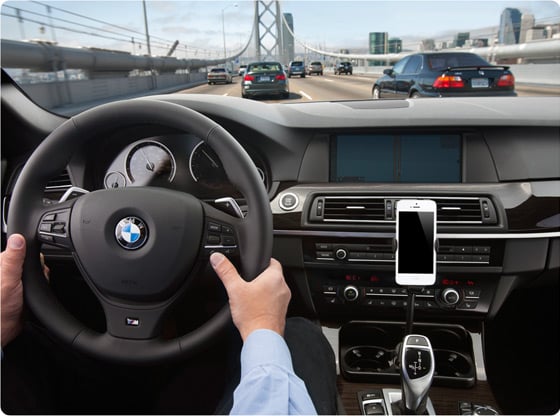 Verizon Wireless (NYSE:VZ), AT&T (NYSE:T), Sprint Corp. (NYSE:S), and T-Mobile (NYSE:TMUS) have all teamed up to contribute to a campaign called "It Can Wait" that raises awareness about the dangers of texting while driving.
The "It Can Wait" campaign released a new documentary this week directed by award-winning filmmaker Werner Herzog called From One Second to the Next, which can be seen here. The emotional film chronicles the lives of several people who have been affected by accidents caused by texting and driving, including a young boy named Xzavier who was hit by a car for that very reason. The "It Can Wait" site also has a simulator that shows users how distracting texting is when behind the wheel.
There are several apps available to help deter the habit of texting and driving, but even these do require some discipline on the part of the user. This video from All Things D outlines a few of the options. DriveScribe, Text-Star, and DriveSafe.ly are three popular apps to help prevent texting while driving. The apps give the option to create an auto response text message for any messages received while driving.
DriveScribe detects the speed of a vehicle the phone is riding in and sends out an auto response whenever the car moves over twelve miles an hour, and messages don't arrive until to the phone until the car is stopped. Drivesafe.ly gives the option to have messages read aloud, sends an auto response, and offers a premium version that allows a user to send a text using their voice. Both Text-Star and DriveScribe give users a star rating based on how frequently they choose to text and drive.
While they can't seem to get along on anything else, Telecom's big four are willing to partner up on raising awareness for their customers's safety. According to the "It Can Wait" site, over 100,000 car accidents are caused by texting and driving each year, and that number is only expected to increase as people become increasingly attached to their smartphones.
Follow Jacqueline on Twitter @Jacqui_WSCS