Tesla Makes This Guarantee To Keep Customers
Responding to harsh criticism over the resale value of its $70,000 plug-in electric car, the Model S, Tesla Motors (NASDAQ:TSLA) announced a new finance plan that guarantees the Model S will be worth at least 50 percent of its original price, three years from now.
The new financing plan is a significant increase from the previous one, which only guaranteed 43 percent of the Model S's original cost, according to The Wall Street Journal. The way it works is if, in three years, a customer wants to sell their Model S, Tesla will buy it back for 50 percent of its original cost, regardless of actual market value.
"If we really believe we are making the best car, we should provide the best resale values," Chief Executive Elon Musk said. ""When we did our first financing announcement a month ago, we didn't get it quite right. This is backed by me personally to give peace of mind about the long-term value of the product."
The new offer will also apply retroactively to customers that bought their Model S when the original 43 percent buyback was still active. This is a highly significant number, as Tesla sold 4,750 Model S vehicles in the first quarter of 2013 in Canada and the U.S., per Clean Technica, the highest of any electric powered car.
Next on that list was General Motor's (NYSE:GM) Chevy Volt, priced at just $39,145 before a $7,500 government tax credit. GM sold 4,244 Volt's in Q1 of 2013. There is no announced buyback program for the Volt, and for good reason. At almost half the cost of the Model S, the Volt is already cost competitive with many non-electric cars on the market.
One company that is not doing as well with sales of its electric models is Ford (NYSE:F). The electric Ford Focus, starting at $39,200 before government tax credit, does not have a buyback program similar to the Model S. Although the Focus is price competitive, there were just 419 units sold domestically in 2013.
As the following graphic shows, sales of plug-in cars have increased steadily over the past three years: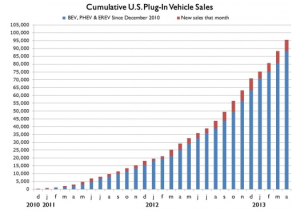 If trends continue, there is no doubt that Tesla's buyback method will have been worthwhile. The move ensures that Tesla keeps its target consumers interested in their expensive Model S—extremely important for a smaller company trying to compete against the GM's of the world. They need to continue turning a profit, and cash now is far more valuable than cash three years from now.
Don't Miss: Brawn Over Beauty: At Auctions, Ford Bronco Is the New Ferrari.