The 4 Biggest Games Launching the Week of July 20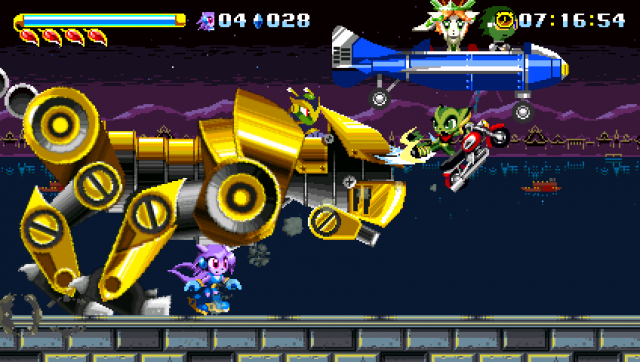 It's time again to look ahead to the upcoming week to see what video games are coming out. July has been a pretty slow month so far, but this week will see the launch of several great-looking titles, especially for PC gamers. Without further ado, here's a list of the biggest, most interesting games launching next week.
Freedom Planet
July 19 (PC, Mac, Linux)
Fans of Sonic the Hedgehog will want to check out this speedy indie platformer. Freedom Planet draws heavily from the spiky blue mascot's games, but it comes off more as a loving homage than a direct rip-off. Just like in Sonic games, you speed through expansive side-scrolling levels, running up walls and looping loops. Touch damage is gone, so there's less to impede your speed, making the game easier (and more kid-friendly) than its inspiration. But the graphics have that Genesis-era allure, and the music is catchy as all get-out. With three distinct playable characters, there's plenty of reason to re-play the game after you beat it. Freedom Planet looks like a solid dose of fun for older gamers who grew up with these kinds of games, and for younger gamers ready to get hooked.

OlliOlli
July 22 (PC, Mac, Linux)
This retro-style skateboarding game hit the PS Vita in January, but is grinding its way onto PCs next week. Its already been met with mostly positive reviews from critics, but some really, really disliked it. What makes OlliOlli so divisive? It quickly becomes a very demanding game that asks a lot of players. Each level is essentially obstacle course that asks you to string superhuman skateboarding combos together as you traverse. The catch is that one wrong move causes you to restart the level from the beginning. If that kind of satisfying challenge sounds like your kind of thing, hop on board for the fun.

Oddworld: Abe's Oddysee New 'n' Tasty
July 22 (PlayStation 3, PlayStation 4, PS Vita)
Oddworld: Abe's Oddysee was a very fun action puzzle game that came out in 1997 for the original PlayStation. It followed the story of Abe, a green alien who helped his fellow Mukodons escape slavery in a factory where they were about to be ground up for meat. The upcoming New 'n' Tasty edition is a total remake for all modern PlayStation systems with revamped graphics, tweaked gameplay mechanics, and a handful of control concessions that make the game less frustrating to play. The one thing that has remained the same, however, is the brilliant level design, which stitched together puzzle after puzzle in a way that's tough to improve upon. Whether you played the original or not, Oddworld: Abe's Oddysee New 'n' Tasty will be a smart one to check out.

Unrest
July 23 (PC, Mac, Linux)
If you're looking for something wholly unique to play, your best bet is Unrest, an RPG that takes place in ancient India during a time of turmoil. But instead of focusing on a fledgling hero like many RPGs, the story here is told through the eyes of ordinary citizens. All these people want to do is stay safe, feed their families, and live in peace. But how you play is up to you. If you want to join the fight you can, but combat is challenging and brutal (it's also totally avoidable if you'd rather pull a Gandhi.) As in real life, death is permanent. This RPG, which was made by Indian developers, doesn't sound like anything else out there at the moment, so be sure to look for reviews next week if Unrest sounds interesting to you.
More From Wall St. Cheat Sheet:
Want more great content like this? Sign up here to receive the best of Cheat Sheet delivered daily. No spam; just tailored content straight to your inbox.