The 5 Biggest Games Launching This Week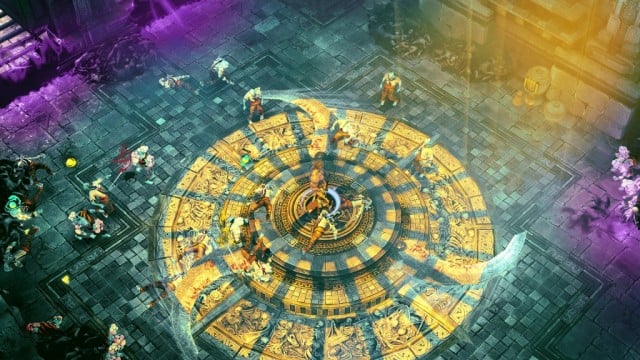 In need of a new video game to play next week? Whether you like to game on a PC, console, or handheld, we've got you covered. Here's a list of the best looking games coming out this week on a variety of platforms.
Sacred 3
August 5 (Xbox 360, PlayStation 3, PC) Trailer
One of the biggest cross-platform games coming out next week is Sacred 3, an action game in which you and your friends hack and slash your way through a fantasy world full of orcs, goblins, and other Tolkien-esque beasts. Even if your buddies aren't online, the game supplies you with three computer-controlled compatriots to help you out. This allows you to band together with your team to perform devastating combos on swarms of enemies. Meanwhile, you can upgrade your character's weapons and armor, and increase various stats. It might not bring any revolutionary ideas to the genre, but if it delivers fun multiplayer action, that may be all you need.

Ultra Street Fighter IV
August 5 (Xbox 360, PlayStation 3) August 8 (PC) Trailer
If you've played one of the many versions of Street Fighter IV released in the past few years, you probably know what to expect here. It's a finely tuned fighting game that's one of the best on the market. The reviews have already been posted for this edition, so we can say that Ultra Street Fighter IV really is the best version of the game yet. It introduces five new fighters, six new stages, a few tweaks to make sure each character is balanced against the others, and new practice modes. If you haven't played Street Fighter IV, or you're looking for a fuller roster to choose from, grab this one up.

The Swapper
August 5 (PlayStation 3, PlayStation 4, PS Vita) Trailer
It's tough to come up with a fresh concept for a side-scrolling action game these days, but the minds behind The Swapper have done just that. In this game, set in a dark sci-fi world, you play as an astronaut who has to progress through a landscape of cliffs, pits, and other hard-to-navigate environmental obstacles. Your only tool for the job is a device that lets you aim and create a clone of yourself several meters away. Developer Facepalm Games has come up with a series of increasingly challenging puzzles that are all solvable if you use the Swapper tool in creative ways. Just try not to overheat your brain while you puzzle out the solutions.

Back to Bed
August 6 (PC, iOS) Trailer
What if you could explore the bizarre world of a surrealist painting? That's the question the makers of Back to Bed asked, and the answer looks like a lot of fun. In this game, you have to direct a sleepwalking man through the beautifully strange worlds of his dreams. The thing is, his dreams are full of impossible architecture. Your job is to direct the sleepwalker where to go, and to manipulate the environment to create a path for him. It looks like a fun little game that will be equally playable in quick sessions or in longer gaming marathons.

Road Not Taken
August 5 (PlayStation 4, PC) Trailer
Developer Spry Fox knows its way around a grid-based puzzle game. Its earlier title Triple Town was incredibly addictive, and the upcoming Road Not Taken looks equally promising. In this puzzle game, you play as a ranger who travels through a grid-based forest to rescue lost children after a massive blizzard. Each level is randomly generated, so you'll never play through the same map twice. Basically, you travel around the board, moving objects like trees and bee hives and delivering children to safety. The enemies move each time you do, too, so you have to plot your path carefully. Check out this one if you like a good puzzle.
More From Tech Cheat Sheet:
Want more great content like this? Sign up here to receive the best of Cheat Sheet delivered daily. No spam; just tailored content straight to your inbox.