The 5 Biggest Video Games of Next Week: 'Madden,' 'Metro,' and More
It's time to look ahead to the upcoming week to see what video games will be landing on digital and physical store shelves. August hasn't been the biggest month for major game releases so far, but this week will see the launch of several well-known titles across most current-gen systems. It's almost like we can sense the holiday selling season starting to kick into gear. Without further ado, here's a list of the biggest, most interesting games launching next week.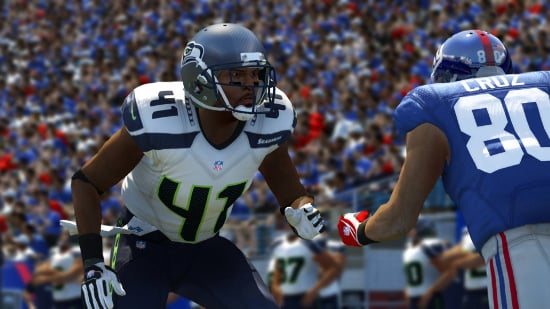 Madden NFL 15
August 26 (PlayStation 3, Xbox 360, PlayStation 4, Xbox One) Trailer
For gamers, the football season truly begins when the new edition of Madden comes out. Unlike some installments, this year's model doesn't bring a whole lot of innovative new features to the franchise, but it does make the transition to the PlayStation 4 and Xbox One with grace and style. Plus, it comes packing the strangest video game trailer I've ever seen — which is really saying something. So if you like the Madden series and great graphics, you're in luck. There's never been a better looking football game than this.

Hyperdimension Neptunia Re;Birth1
August 26 (PS Vita) Trailer
It seems like each week a new Japanese import slips under the radar and onto the PS Vita. This week, that game is Hyperdimension Neptunia Re;Birth1, a remake of a PS3 role-playing game with a premise that is as silly as it is endearing. The game puts a unique spin on the console wars by personifying Nintendo, Sony, Microsoft, and (curiously) Sega as busty female gods battling it out for domination. Although the PS3 version didn't fare so well on Metacritic, a handful of respectable critics enjoyed the goofy humor and JRPG gameplay.

Metro Redux
August 26 (Xbox One, PlayStation 4, Windows, Mac) Trailer
The Metro series of shooters has been a critical hit, but hasn't made as big a name for itself to the Call of Duty crowd. Metro Redux looks to change that. This collection gathers remastered versions of Metro 2033 and Metro: Last Light into one great looking package for current-gen systems. So what are these games? They're first-person shooters set in a tunnel system beneath a post-apocalyptic Moscow. This is a tonally dark game where bullets are prized for their use as ammo as well as currency. If that sounds like your kind of game, be sure to check out this remastered collection.

Professor Layton vs. Phoenix Wright: Ace Attorney
August 29 (Nintendo 3DS) Trailer
For many handheld gamers, this crossover between two of the most popular 3DS heroes is a dream come true. Here, Professor Layton and lawyer Phoenix Wright team up in a game that takes gameplay elements from each series. That means you'll explore environments for clues and solve problems just like in Professor Layton games, then you'll go to trial where Phoenix Wright takes over to cross examine witnesses, looking for inconsistencies in their testimonies. If you're a fan of either of these excellent series, this game will be hard to resist.

Azure Striker Gunvolt
August 29 (Nintendo 3DS) Trailer
Listen up retro gaming fans: famed Mega Man director Keiji Inafune has a new 2D action platformer set to launch on the Nintendo 3DS eShop. This game puts you in the shoes of a psychic hero who has to fight against a group that's trying to rid the world of psychics. It looks like a colorful, action-packed throwback to the days of Super Nintendo and games like Mega Man X. As a bonus, people who buy Azure Striker Gunvolt will also receive a free copy of Mighty Gunvolt, a simplified spin-off of the main game.
More From Tech Cheat Sheet: