The Flexible Future of Apple Devices
Close followers of Apple (NASDAQ:AAPL) news know from patent filings and job listings that the Cupertino-based company has been interested in flexible display technologies for some time now. Corning (NYSE:GLW), the creator of the amazingly flexible Willow Glass, already has an established relationship with Apple through its utilization of Corning's tough Gorilla Glass in iPads and iPhones. There has already been a lot of well-publicized speculation about the potential use of Willow Glass in Apple's iWatch.
However, Mike Elgan at Cult of Mac gives us a fantastic overview of some of the less discussed and unusual possibilities that this relatively new display technology will afford to Apple engineers.
Elgan notes that large display screens like the ones found on the 27-inch iMac are already "pushing the limits of straight-on visibility" since a user in close proximity has to lean from side to side in order to properly view the edges of the screen. However, flexible glass technology would allow engineers to create even larger displays that would organically curve to fill the user's field of vision.
Another fascinating possibility for flexible glass would be to create a display that slopes down towards the user to function as a touchscreen virtual keyboard.
Besides the mundane advantage being less likely to crack, flexible screens on iPhones and iPads could also introduce many interesting design elements into the devices. Wraparound displays, virtual buttons, and haptic buttons that physically emerge from the screen are all features that could be incorporated into future Apple devices.
Although the flexible display possibilities that Elgan discusses are fascinating enough, there are also bound to be useful applications for this technology that no one has even thought of yet. It will be interesting to watch Apple's flexible future unfold.
Apple shares fell $4.53, or 1.04 percent, to close at $429.80 on Friday.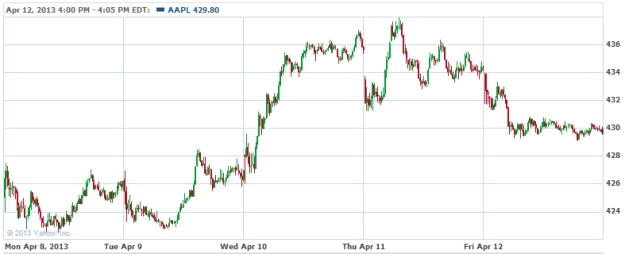 Don't Miss: Here's How Apple's Making China a Top Priority.