The iPad is King as Tablets Crush PCs
With Apple's (NASDAQ:AAPL) iPad leading the way, shipments of tablets are set to outpace global notebook sales this year, according to latest data from NPD DisplaySearch. The firm projects tablets to reach shipments of 240 million units this year, while only about 207 million notebooks will get shipped.
The tablet market has for years been "dominated by one major player, Apple," especially with its older, full-sized iPad, but several new rivals are making their mark in a big way in the smaller-screen segment, the research firm said. Google (NASDAQ:GOOG) released its seven-inch Nexus 7 last year, while Apple also entered the small-screen market with its iPad mini. Amazon.com (NASDAQ:AMZN) offers a seven-inch Kindle Fire HD, while Samsung (SSNLF.PK) sells a smaller Galaxy Tab.
Should you buy or sell Apple's stock ahead of earnings this month? Our 20-page proprietary analysis will help you save time and make money. Click here to get your SPECIAL REPORT now.
"The tablet market has been led by Apple's 9.7-inch iPad, but in 2013 a new class of small tablets will take over the market," DisplaySearch said. "Tablet PCs with 7-to-8-inch screen sizes are expected to account for 45 percent, or 108 million units of the market in 2013, overtaking the 9.7-inch size, which will account for 17 percent share or about 41 million units."
Just six months ago, DisplaySearch had predicted that it would take until 2016 for tablets to surpass notebook shipments, but the market appears to have changed dramatically since then. It would have grown 64 percent year-over-year at the end of 2013, according to these figures. (Chart courtesy NPD DisplaySearch)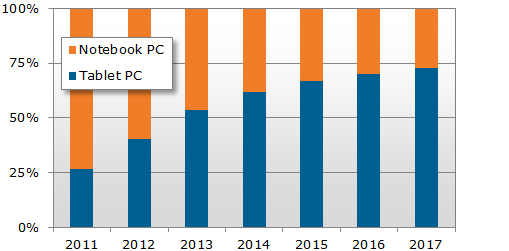 "The tablet PC market saw increasing investments in North America in the second half of 2012, from major brands that tested not only new screen sizes and price points, but also unconventional business models to support their efforts," DisplaySearch said.
Start 2013 better than ever by saving time and making money with your Limited Time Offer for our highly-acclaimed Stock Picker Newsletter. Get our fresh Feature Stock Pick now!
North America, with a 35 percent share of shipments and 85 million total units, will remain the largest market, but following closely behind will be China with a 27 percent share and 65 million units.
Here's how Apple traded relative to Google and Amazon.com shares on Wednesday: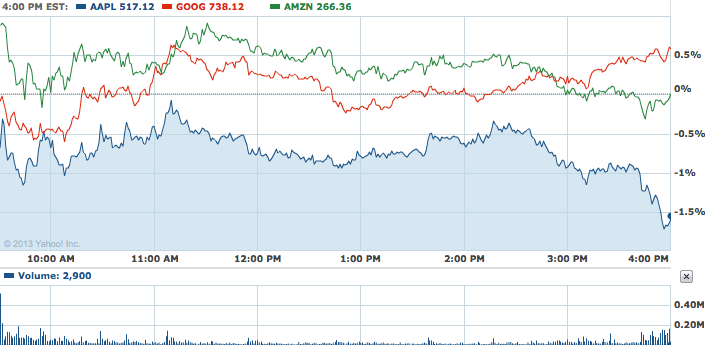 Don't Miss: T-Mobile Sets This iPhone Deadline.