The iPhone's New Invisibility Ability
Apple's (NASDAQ:AAPL) design sensibility has always focused on creating simple, functional, yet beautifully designed products. However, Apple's vaunted minimalist designs could get even sleeker if the Cupertino-based company decides to use the ideas outlined in a recently granted patent.
In the patent titled "Disappearing Button or Slider," Apple outlines its vision for an invisible backside button and slider control for iPhones and other devices. These buttons would be invisible except for tiny perforations in the surface where light would shine through when the buttons are activated. This backlighting could be activated in a number of different ways.
Regarding the activation of the "invisible" buttons, Apple states in the patent document that "the backlight can be activated when a user taps or presses down on button 20. In another embodiment, a motion sensor (not shown) may interface with LED 95 and activate it when motion is detected. In [another], heat and/or sound sensors (not shown) can interface with and activate LED 95 when heat and/or sound is detected."
In other words, the button will light up when it senses the movement, heat, or sound of your hand. Keeping the buttons dark when they are not in use will create a way to "present and display user information in a manner that is easy for the user to grasp and understand, but is also in an uncluttered form and appearance that is aesthetically pleasing." Sounds a lot like what Apple excels at creating in its products today.
Not only will these invisible buttons allow Apple to make its products even sleeker, it will also allow the California-based tech company to hide distracting display elements from the user when they are not needed. This will help to improve the overall user experience with tech products that are becoming increasingly complex.
Here's how Apple has traded so far this week.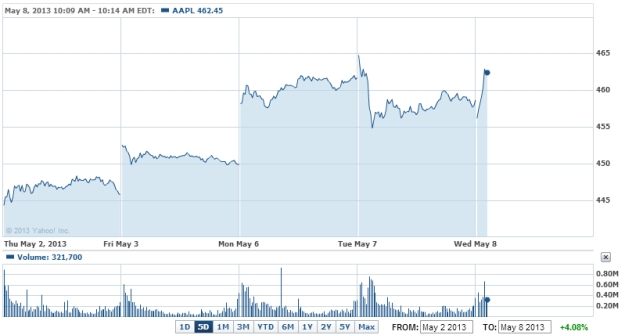 Don't Miss: Is David Einhorn Head-Over-Heels for Apple Again?