New Developer Brings Fresh Ideas in 'Call of Duty: Advanced Warfare'
When the upper brass at Activision ask if you want to make a Call of Duty game, you say yes. Then you wonder what you've gotten yourself into.
That's the position Glen Schofield and Michael Condrey of Sledgehammer Games found themselves in not long after a big shake-up at one of the studios responsible for the Call of Duty series, Polygon reports.
The studio in question was Infinity Ward, which also happens to be the company that's credited with Call of Duty's surge in popularity. When Infinity Ward released Call of Duty 4: Modern Warfare in 2007, it pushed the first-person shooter genre into new territory. The game was intense in a way shooters hadn't quite managed before, with tight controls and big, exciting scenarios in every level. Thanks to its addictive multiplayer modes, the game also had incredible longevity, keeping players engaged all year long. None of it would have happened, however, if the game wasn't very well-designed.
With the release of Modern Warfare, the Call of Duty series took off like a shot, with its yearly installments selling in record-breaking numbers with astounding reliability.
Everyone knows all good things must come to an end. In 2010, two senior employees at Infinity Ward were fired, leaving the studio in disarray. Sledgehammer stepped in to finish the game it had been working on, Modern Warfare 3. Once that game was finished, Activision made Schofield and Condrey an offer they couldn't refuse: To become the lead studio for the 2013 installment of the series.
"I've made the analogy of you come to play for a championship team and coach says, 'Hey, here's your chance to take the lead.' You take it, right?" Condrey told Polygon. "We wanted to have our chance to show that Sledgehammer could be a lead studio [on one of the franchise's annual first-person games]."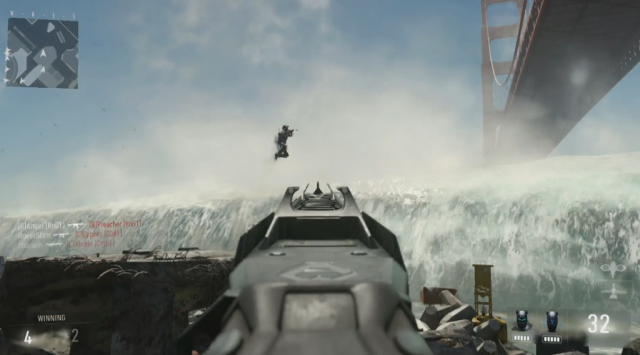 Obviously, Activision wouldn't drop such an important franchise in the lap of unseasoned newbies. Schofield and Condrey had come from Electronic Arts, where they had created Dead Space, a survival horror game so popular it launched a very successful franchise. The pair had their AAA bonafides, but they had never made a game as high-profile as Call of Duty.
So what do you do when Activision asks for your ideas for a new installment? You shoot for the stars. Schofield and Condrey applied their relatively outsider perspective to the prospect of making a whole new Call of Duty game, and came up with a list of ideas that alter the series' standard run-and-gun gameplay more than any installment in recent memory. To their surprise, Activision gave them the freedom to incorporate those ideas into the new game.
What were those ideas? For starters, Advanced Warfare takes place well in future — 2054, to be exact. This allows for all sorts of speculative weapons and gear to exist in the game, including lasers, mech suits, drones, and exoskeleton suits.
It's the "exo suits" that lead to the biggest change of all: Character movement. Previous Call of Duty games take place either in the past or very near future, which means the characters can move like modern soldiers — which is to say, like normal people. But thanks to the super-powered exo suits, players can now perform quick dashes in any direction. You can even slam down on enemies if you catch them from above. Beyond that, you can jump higher, lending players much more freedom when avoiding enemy fire or navigating terrain. The same tight, precise shooting remains in place, but now players can get around more easily.
Another high-profile aspect of Advanced Warfare is that it features House of Cards star Kevin Spacey, an actor who, ironically, has declared he's never played a game in his life. Spacey plays Jonathan Irons, the leader of a massive private military corporation around whom the plot of the game turns. Thanks to modern "performance capture" technology, which mixes motion-capture, facial rendering, and voice recording, Sledgehammer has essentially pulled a digital version of the actor into the game.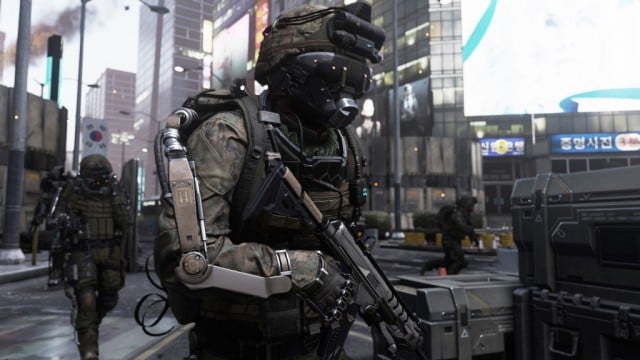 It will be interesting to see if Spacey does more video games in the future, because he didn't have many positive things to say about the experience. In the New York Times, he described the process as "really odd."
"They have you wear a tight suit dotted with reflective balls that let cameras capture all of your movements," Spacey said. "They're making sure your body is going to be actually captured. So you have to do all these things, and get your legs moving, incredibly stupid things that you wouldn't do in a yoga class."
"And then you're in a completely empty studio," Mr. Spacey said. "It's as dull — it's like being in a cardboard box."
Despite Mr. Spacey's discomfort, his appearance in trailers for Call of Duty: Advanced Warfare has helped raise the game's profile above other recent installments — which is good news for Schofield and Condrey, who must have approved a small fortune for the actor's appearance. And now more than any time since 2007, the Call of Duty franchise could use a boost. Sales have been on the decline in recent years, and the 2012 installment, Call of Duty: Ghosts, was met with poor critical reception.
So far, Advanced Warfare has a Metacritic score of 85 out of 100, so things are looking good. But whether the sci-fi additions to the series will be enough to turn around the sales slump remains to be seen.
Mr. Condrey, at least, is hopeful. He told Polygon he hopes Advanced Warfare is the first in a new sub-series of Call of Duty games, much like Modern Warfare and Black Ops. If he's right and Activision gives the go-ahead, Sledgehammer Games will have to start working on the next installment pretty soon. I bet they've already started brainstorming ideas for a sequel.
Follow Chris on Twitter @_chrislreed
More from Tech Cheat Sheet:
Want more great content like this? Sign up here to receive the best of Cheat Sheet delivered daily. No spam; just tailored content straight to your inbox.