Theorists on Apple Bounce: Rally or Rout?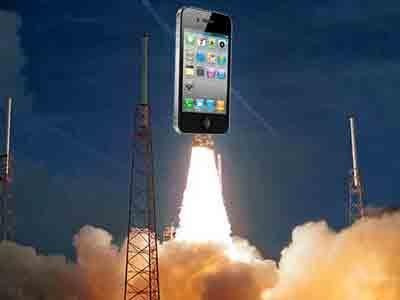 Is the latest Apple (NASDAQ:AAPL) bounce the start of a major rally or is it just another hiccup in a downtrend towards a lower bottom? Apple shares have rallied a 6.04 percent gain this week and some Apple analysts are hoping that this is the beginning of an upward trend.
However, technical analysts who base their market analysis on the larger patterns of the stock's movement are not so sure. Despite the bounces, the overall trajectory of Apple shares has been downward ever since it crossed the $700 threshold in September 2012.
Craig Johnson, a senior technical research analyst at Piper Jaffray notes via the Wall Street Journal that "The primary trend is still lower. I'll be more interested [in Apple] when there is a downtrend reversal."
Since the stock's peak in September, there have been four minor rebounds. Apple shares got as high as $589.53 in November 2012, before dropping to $509.79 in December. In January Apple shares climbed to $549.03 before dropping to $439.88 later in the month. February saw Apple shares hit a high of $479.93 before falling steeply again to $441.40. Similarly, Apple shares bounced to $463.58 in March before dropping to $442.66 by the month's end.
Significantly, each rally's peak has been lower than the peak in the previous rallies. Unfortunately, according to Dow Theory, this suggests an overall downtrend movement of Apple's stock.
Until Apple shares rise above the last crest that was reached on March 25 when Apple shares climbed to $463.58, the overall pattern will continue to be considered a downtrend. Piper Jaffray's Craig Johnson advises via the Wall Street Journal that minor rallies such as those outlined above should be considered as selling "opportunities."
Although Johnson may view Apple's stock movement as signs of an overall downtrend, the Cupertino-based company also has a knack for surprising Wall Street investors and analysts. With the possible introduction of revolutionary new products in the summer or fall of this year, it may not be long before Apple becomes the darling of Wall Street analysts once again.
Apple closed up 2.16 percent at $417.20 on Friday.
The chart below outlines Apple's downtrend movement since its peak in September 2012.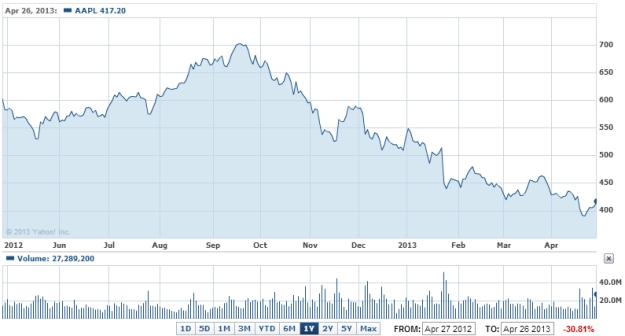 Don't Miss: iPad Slows As Surface Grows: Microsoft Proves Its Worth to Apple.