These 5 Tech Players are on the Move
It was another fun-filled week with Mr. Market. The Dow Jones Industrial Average logged its first weekly loss of the new year, finishing just shy of 14,000. Meanwhile, the S&P 500 and Nasdaq both climbed higher for the sixth consecutive week. In fact, the Nasdaq is now at its best level since November 2000.
Here's a weekly recap of technology names making big moves:
LinkedIn (NYSE:LNKD), the world's largest professional network, surged 21.5 percent this past week.
The company reported impressive results for the fourth quarter. Net income surged 67 percent to $11.5 million (10 cents per share), compared to $6.9 million (6 cents per share) a year earlier. Excluding stock-based compensation expenses and other adjustments, earnings per share came in at 35 cents per share, easily beating analysts' expectations of 19 cents per share.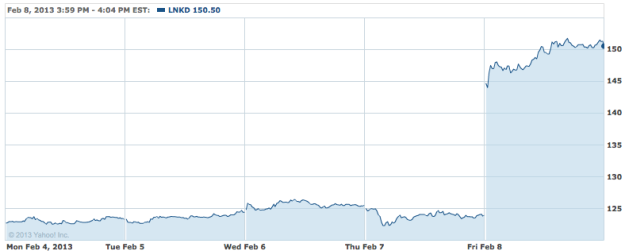 "2012 was a transformative year for LinkedIn," said Jeff Weiner, chief executive officer. "We exited 2011 having successfully revamped our underlying development infrastructure. Based on that investment, we said that 2012 would be a year of accelerated product innovation, and it was. The products we delivered throughout the year drove member engagement and financial results to record levels in the fourth quarter."
Yelp (NYSE:YELP), which provides local business reviews and advertising, announced better-than-expected fourth quarter revenue, and shares closed the week 4.3 percent higher.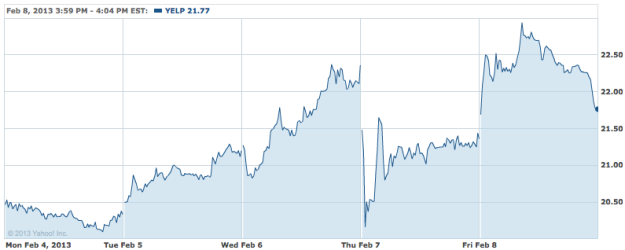 The San Francisco-based company reported a net loss of $5.3 million (8 cents per share) for the three months ended December 31, 2012, compared to a net loss of $9.1 million (56 cents per share) a year earlier. Revenue surged 65 percent to $41.2 million, compared to $24.9 million in the fourth quarter of 2011. Analysts on average projected a loss of 5 cents per share on $40 million in revenue.
Net revenue for the full year came in at $137.6 million, up 65 percent from $83.3 million in the prior year. However, total cost and expenses jumped 57 percent for the year, resulting in a net loss of $19.1 million, worse than the $16.9 million loss in 2011.
Shares of Google (NASDAQ:GOOG) gained 1.3 percent for the week to hit new all-time highs, as the search engine giant continues to expand its mobile presence. According to comScore, a leader in measuring the digital world, 125.9 million people in the U.S. owned smartphones during the final three months of 2012, representing a 5 percent increase from the September-ended quarter.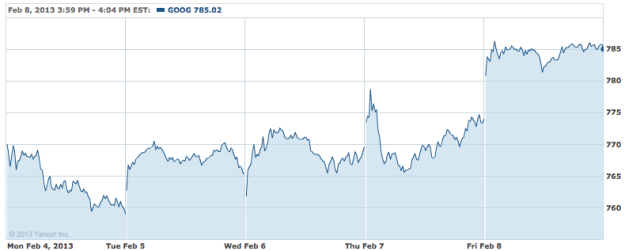 When it comes to the smartphone platform in the U.S., Google's Android came in on top with a market share of 53.4 percent in the fourth quarter, up 0.90 percent from the third quarter. Apple maintained second place and increased its market share 2 percent to 36.3 percent. BlackBerry (NASDAQ:BBRY) ranked third with 6.4 percent market share, down 2 percent. Microsoft (NASDAQ:MSFT) also lost market share, while Symbian was flat from the previous quarter.
Facebook (NASDAQ:FB) shares did not participate in the tech rally and dropped 4 percent this past week.
New findings from the Pew Research Center's Internet & American Life Project indicates that 61 percent of current Facebook users at one time or another in the past took a voluntarily break from the social site for several weeks or more.

Twenty-percent of the online adults who do not currently use Facebook, claim they at least tried the social site once, but no longer use it. Only 8 percent of online adults who do not currently use Facebook are actually interested in becoming a user in the future.
The study asked the 61 percent of Facebook users that took a break to explain why they did so. There was a wide variety of reasons, but 21 percent said they were simply too busy and did not have time for it. Ten percent said they were not interested or did not like it, while another 10 percent said the content was not relevant and a waste of time.
Zynga (NASDAQ:ZNGA), the social-gaming company behind hit titles such as Words with Friends and FarmVille, surprised Wall Street by announcing better-than-expected financial results. Shares jumped nearly 30 percent this past week.
The San Francisco-based company reported a net loss of $48.6 million (6 cents per share) for the fourth quarter, compared to a net loss of $435 million ($1.22 per share) a year earlier. Adjusted earnings came in at 1 cent per share, beating expectations for a 3 cents per share loss.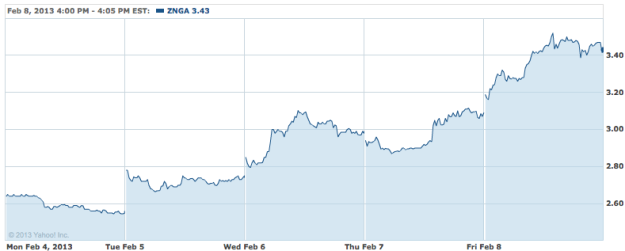 Revenue was also higher than expected. Zynga reported sales of $311 million, flat compared to the same period a year earlier, but above estimates of $212 million.
"The biggest highlight of the quarter was seeing our team deliver a successful sequel in FarmVille2, a next generation social game that offers cutting edge 3-D experiences loved by millions of FarmVille fans," said Mark Pincus, chief executive officer and founder. "In 2013 we're excited to bring this new class of social games to mobile phones and tablets and build a network that offers an easier, better way for people to play together."
Don't Miss: LNKD Charts: Still in the Winner's Circle on Wall Street.