These 8 Power Players Are Scoring Massive Web Traffic
The popularity of the Internet over the past decade has not only paved the way for more daily entertainment, but also for more advertising from major corporate giants. According to comScore, a leader in measuring several aspects of the digital world, online video is still growing its presence in the United States. The company recently announced that data from its Video Metrix service showed 188.5 million U.S. Internet users watched 46.7 billion online videos in August, up from 36.2 billion in January.
As usual, Google sites generated the highest number, with 17.4 billion videos. Google also easily logged the highest average engagement among the top online properties. Video ads, often a requirement for viewing online videos, reached 22.8 billion views in August, up slightly from 19.6 billion views in the previous month and a new all-time high. Overall, video ads reached 56 percent of the total U.S. population.
Let's take a look at the top eight U.S. online video content properties ranked by unique video viewers in August. Most of the companies are outperforming the Dow Jones Industrial Average (NYSEARCA:DIA) and S&P 500 (NYSEARCA:SPY) this year.
8. Viacom Digital (NYSE:VIA)
Unique viewers: 44.4 million
Year-to-date performance: 54 percent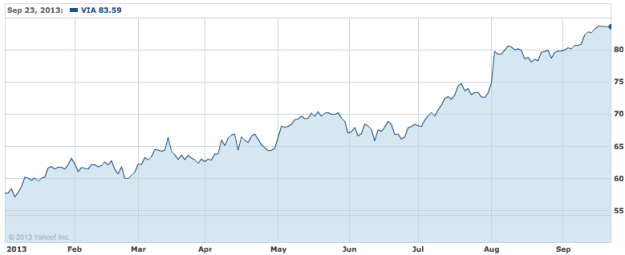 7. Yahoo! sites (NASDAQ:YHOO)
Unique viewers: 45 million
Year-to-date performance: 52.1 percent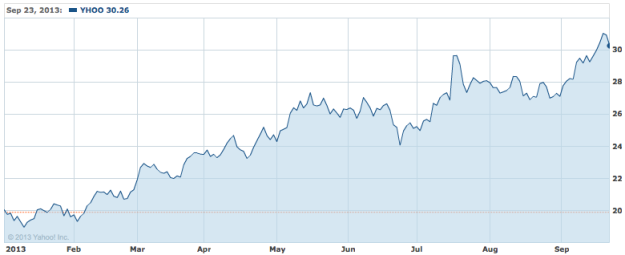 According to a report from AllThingsD last month, Yahoo CEO Marissa Mayer is working on a deal with celebrity reporter Katie Couric for an original Web interview show that will be prominently featured on the Yahoo homepage. Couric has done some small appearances for Yahoo and has a video series called "Katie's Take," which is basically a shortened version of the talk show, already on Yahoo. However, the new deal would be much more substantial and heavily overseen by Mayer herself. It would also be a small step in helping Yahoo compete with Google's YouTube service.
6. Microsoft sites (NASDAQ:MSFT)
Unique viewers: 48.9 million
Year-to-date performance: 22.6 percent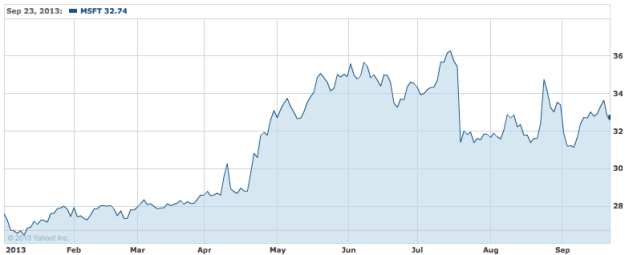 5. Vevo (NYSE:SNE)
Unique viewers: 49.4 million
Year-to-date performance: 90.1 percent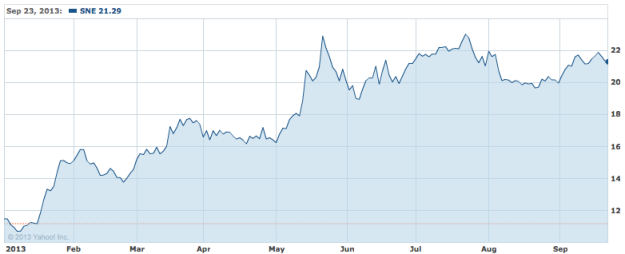 4. News Distribution Network
Unique viewers: 50.7 million
NDN is a leading-edge digital video and advertising solutions company. Its syndication and advertising model distributes professional multimedia content from trusted brands to high-quality digital publishers. It is not a publicly traded company, but current employees hail from CBS, CNN, Condé Nast, Cox, Discovery, Turner Broadcasting, and elite individual properties such as AJC.com, NOLA.com, and WashingtonPost.com.
3. Facebook (NASDAQ:FB)
Unique viewers: 62.2 million
Year-to-date performance: 77.3 percent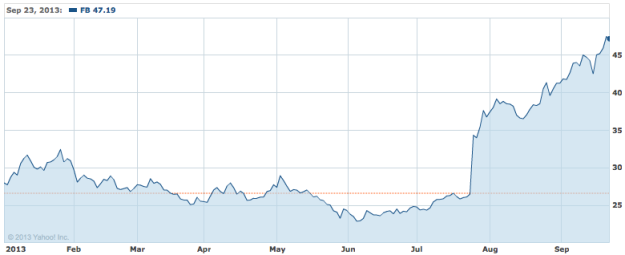 Goldman Sachs recently reiterated its Buy rating on Facebook, noting that video provides a significant opportunity for Facebook and brand advertisers. The firm also hiked its price target on Facebook shares from $46 to $52 in order to bring the multiple in line with peers.
2. AOL (NYSE:AOL)
Unique viewers: 71.2 million
Year-to-date performance: 18 percent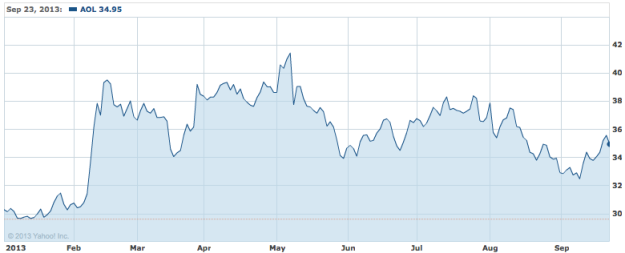 1. Google sites (NASDAQ:GOOG)
Unique viewers: 167 million
Year-to-date performance: 25.3 percent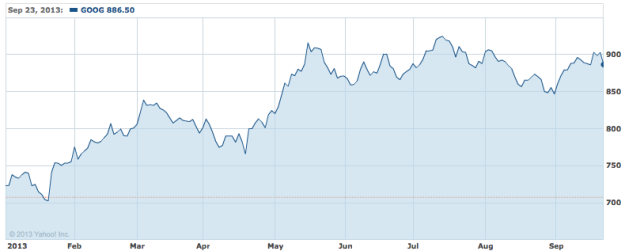 Don't Miss: Who Does the Government Really Work For?
Follow Eric on Twitter @Mr_Eric_WSCS