These Banks Made Hay With the Apple Bond Sale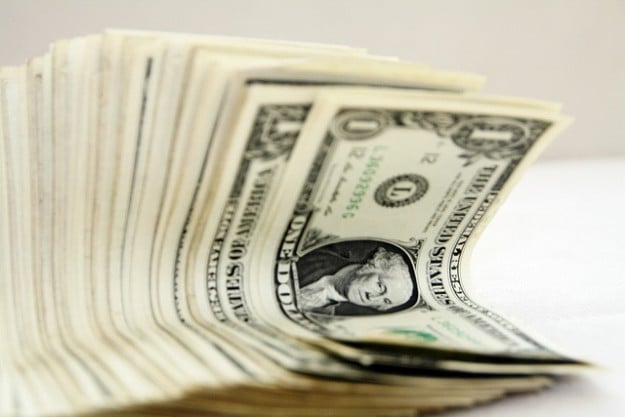 Although the primary purpose of Apple's (NASDAQ:AAPL) $17 billion bond sale was to provide funding for its $100 billion shareholder capital return plan, the unusually large offering also had a beneficial side-effect on Apple's underwriting partners. According to a U.S. Securities and Exchange Commission filing yesterday, Apple paid the banks that assisted in the deal a total of $53.3 million in fees. These fees are typically split among the underwriters based on the proportional amount of the sale that each firm processed.
The main beneficiary of these fees was Goldman Sachs (NYSE:GS), which received a $38.3 million payout for handling 72 percent of the six-part bond offering. Even so, Goldman Sachs' bonanza was only based on a 0.313 percent portion of the overall amount of funds raised. The average percent paid on investment-grade U.S. corporate bonds is 0.483 according to Bloomberg data. Apple received an Aa1 senior unsecured rating from Moody's and a comparable AA+ rating from S&P.
Deutsche Bank handled the second-largest portion of the deal, underwriting 17.5 percent of the total bonds. This entitled Deutsche Bank to a total of $9.3 million in fees.
Although Goldman Sachs and Deutsche Bank earned the lion's share of the fees, five other underwriters benefitted from Apple's bond offering. Barclays (NYSE:BCS) and Standard Chartered each handled 1.5 percent of the deal which gave them each a fee of $798,750. Citigroup (NYSE:C), JPMorgan (NYSE:JPM), and Bank of America's (NYSE:BAC) Merrill Lynch unit each processed 2.5 percent of the total sale. This earned each of these banks $1.3 million in fees. Not bad for a day's work.
Here's how Apple has traded so far throughout this week.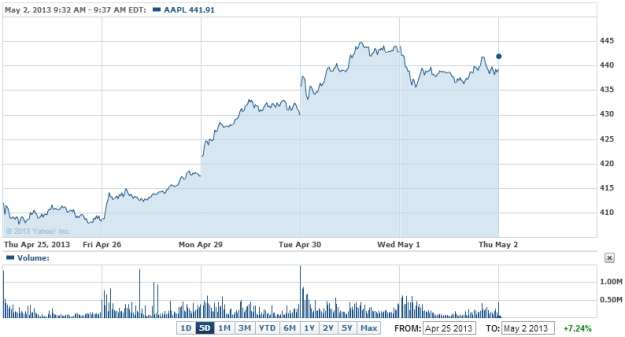 Don't Miss: Is Apple Losing the Tablet Market?