Things Are Finally Looking Up For Apple in China
Apple (NASDAQ:AAPL) regained its fifth place ranking in the Chinese smartphone market for the first quarter of 2013, after it had slipped to sixth place in the last quarter of 2012. According to statistics from the industry research firm Canalys, Apple secured an 8 percent share of the total smartphone market in China.
Although the combined domestic smartphone vendors took the lion's share of the market, Samsung (SSNLF.PK) was still at the top of the rankings with a 20 percent share. The second, third, and fourth spots were filled by three domestic smartphone vendors; Yulong Computer Telecommunication Scientific, Huawei, and Lenovo, respectively.
The Chinese smartphone market has grown exponentially in the last few years and is now approximately three times the size of the U.S. market. Via PCWorld, Canalys analyst Nicole Peng notes that "In Q1 of last year, they [U.S. and China] were neck-and-neck." However, vendors sold 55 million more smartphones in China than they did in the U.S. in the first quarter of this year.
Most of China's extraordinary smartphone market growth is driven by low-price smartphones. These phones can retail for as little as $64. In contrast to the majority of Chinese smartphones, Apple's iPhone 5 sells for 5,288 yuan, or about $862. Even the 8GB iPhone 4 retails for about $503 in the Chinese market. However, many analysts are predicting that Apple will soon debut a low-cost iPhone to help it capture emerging markets like China.
China's largest carrier, China Mobile, has recently been pushing the use of 3G phones for its upgraded network. Samsung has mostly benefited from this push and has increased the sales of its moderately priced 3G-enabled devices.
According to Canalys data, China's total first quarter smartphone shipments saw a 156 percent increase over the same quarter last year. With the Chinese market growing this rapidly, Apple would likely reap a substantial reward if it was to introduce its own low-cost smartphone alternative.
Here's how Apple stock has traded so far this week.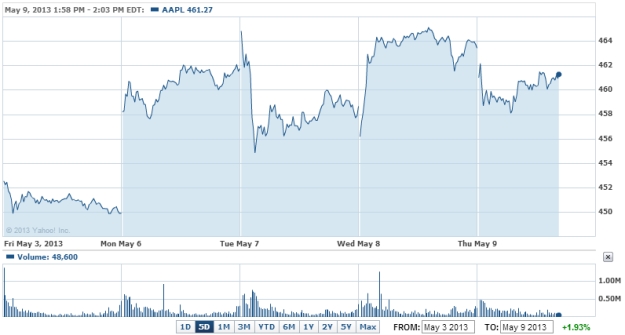 Don't Miss: Why Do These People Want Apple, Google in Their Cars?