This Competitor Could Smash Samsung and Apple Devices
Samsung (SSNLF.PK) and Apple (NASDAQ:AAPL) may be rocking the smartphone market with the premium, high-end devices they come out with, but one company knows there's a niche to be filled, and it thinks it can do what Apple and Samsung can't — or won't.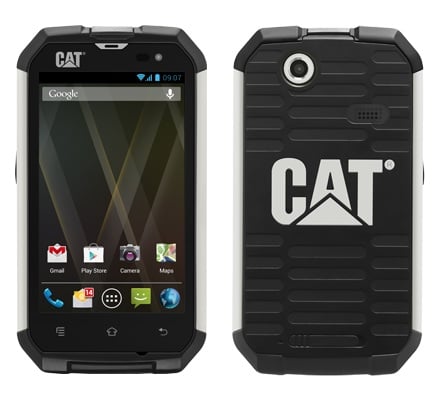 Caterpillar (NYSE:CAT) — perhaps most know for bulldozers and construction equipment — has made another foray into the mobile phone business. That's right: another. In the past, the company has made mobile phones, and even a smartphone, that were highly durable so that construction workers could take their devices to work-sites with less worry of smashing them. Unfortunately, past devices were rather bulky and not exactly winning in terms of style and performance.
Is Apple now a once-in-a-decade buying opportunity? Click here to get your 24-page Ultimate Cheat Sheet to Apple's Stock now!
Now, Caterpillar has launched its latest device, the Cat B15, and it thinks it might be able to win over the small durable smartphone market. The B15 launched Monday and might actually stand a fighting chance against  all the competition.
For one, if the phone were thrown at any other smartphone on the market, it's almost guaranteed to come out as the victor. The iPhone 5 and Galaxy S 4 might have better processors, higher resolution screens, and prettier bodies, but that could quickly change when they're dropped from the 6 feet up that the B15 can supposedly bounce right back from. Both devices might also be able to surf the Internet faster with their high-performance hardware, but if they go for a swim, they might never surf again. The B15 is reported as capable of spending a half hour under 1 meter of water without trouble, and the screen is still touch-friendly when wet — unlike most screens.
For some people, that durability is as important as performance, since a 8-core processor clocked at 1.2 gigahertz isn't worth much broken. At $349 without a contract, the B15 comes at a significant discount to both Samsung's and Apple's flagship devices. Caterpillar doesn't have any carrier partners yet, but if it does get some, it's likely consumers would be able to find the device for next to nothing with a two year contract.
NEW! Discover a new stock idea each week for less than the cost of 1 trade. CLICK HERE for your Weekly Stock Cheat Sheets NOW!
Interestingly enough, the device doesn't even fall too shy of the iPhone 5. It has about half the RAM of an iPhone 5, but its processor clocks in quite close. Its screen has the same diagonal measure as the iPhone 5, and its dimensions are only slightly larger than the iPhone 5′s, though "if you were to get a case to make the iPhone just as durable, our phone wouldn't be the bigger of the two," according to Andreea Marciuc from Bullitt Group, which manufacturers and markets the device for Caterpillar.
According to Caterpillar, the market for so-called "ruggedized" smartphones isn't very big, with only 21 million of such devices sold last year. However, the company believes it can come out on top of that market within two years.
Follow Mark on Twitter (@WallStMarkSheet)
Don't Miss: Is iOS 7 Adding These New Services?