This iPhone App Could Help Save Your Eyesight
Sometimes it is easy to forget that beyond all the dross of video games, music, and other forms of entertainment content available on the iPhone, there are actually some apps for your smartphone that can make a real difference in someone's life. A recently FDA-approved vision test developed by Vital Art and Science for Apple's (NASDAQ:AAPL) iPhone is exactly that sort of program.
Vital Art and Science has developed a software program called myVision Track that allows people with degenerative eye conditions to keep tabs on their eyesight at home with only their iPhone reports TUAW. Although the software does not replace a visit to the doctor, it does allow for someone with a degenerative eye disease to diagnose the progression of their vision loss so they know when to go to the doctor.
Mike Bartlett, a former Texas Instruments employee and current President of Vital Art and Science, demonstrates and discusses the software in the video below.
While it is not quite as fun as Angry Birds, this is an app that could literally help save your eyesight.
According to TUAW, the FDA has only approved the use of the software for the iPhone 4S, but the company hopes to have it available as a general download for other devices soon. Via mobihealthnews, Bartlett explains, "We felt from the beginning we wanted to develop the regulatory approved version. The one that's going to be used and trusted by doctors."
Bartlett also expects that this app will be a useful tool for companies doing clinical drug trials for eye diseases. "In all of the clinical drug trials [for degenerative eye diseases], all of the data is being collected in the clinic. We want to enable them to collect data as often as hourly or daily instead of every month or so. Because of the nature of vision problems, we expect the first big deployments will be done by the drug companies," explains Bartlett via mobihealthnews.
Apple closed at $429.80 on Friday after shedding $4.53, or 1.04 percent, from its price at the opening bell.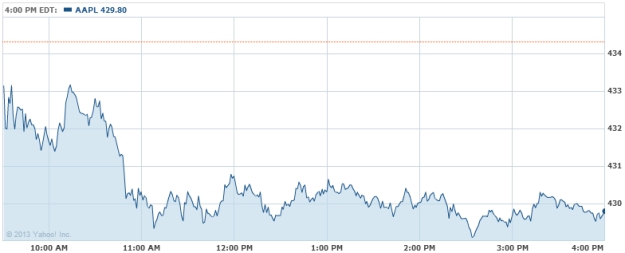 Don't Miss: Here's How Apple's Making China a Top Priority.