This Is Comcast's Bet to Beat Cord-Cutters and Slumping DVD Sales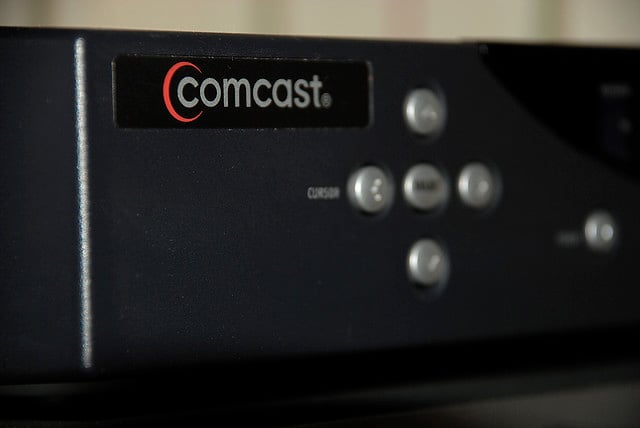 Comcast Corp. (NASDAQ:CMCSA) will reportedly soon begin selling movies to download and stream through its cable set-top boxes and website, according to people familiar with the matter who spoke to Reuters.
Comcast currently rents movies through its cable service, but the new plan would allow customers to buy films, then download and store them on their set-top box for anytime viewing. The movies would cost between $15 and $20, according to a source who spoke to Bloomberg, and will help both Comcast and movie studios make money as the popularity of DVDs continues to fade and more consumers switch to online streaming.
According to data from Digital Entertainment Group cited by Reuters, sales of DVDs and Blu-ray discs have fallen 7 percent in the first nine months of the year. Meanwhile, digital sales grew 48.9 percent versus the first nine months of 2012.
Sources told Reuters that the service could start by the end of the year; it will reportedly offer some new releases, older films, and TV shows. The content will be downloaded from Comcast, and users will then have the ability to stream the content on a variety of devices. Films from Comcast's Universal Studios will likely be some of the first offerings.
The move will benefit both cable operators and movie studios. It will give Comcast a new source of revenue, and movie studios will have access to promote their films to Comcast's 20 million subscribers.
Verizon Communication's (NYSE:VZ) competing pay-TV service, FiOS, already allows customers to rent or buy movies digitally through their set-top boxes. Some film studios, including Lions Gate Entertainment (NYSE:LGF), have started releasing certain movies via digital copies before they come out on DVD in an attempt to get more consumers to switch to the new technology.
Comcast's third-quarter earnings outlined the struggles that pay-TV providers and film studios are facing with the switch to digital, as the company's cable service continued to lose subscribers and NBCUniversal showed a drop in DVD sales. But the move to sell films via cable set-top boxes could help Comcast continue to make its cable service appealing to consumers and provide a new avenue for Universal to sell its films, as well as allow the company as a whole to transition as consumers switch to digital.
Follow Jacqueline on Twitter @Jacqui_WSCS
Don't Miss: Here's the New Stuff Falling from Amazon's Cloud.