This is What Mark Zuckerberg Gets Paid To Run Facebook
Facebook (NASDAQ:FB) CEO Mark Zuckerberg took a massive pay cut for the year 2013 according to a Securities and Exchange Commission filing made on Friday. After taking home an annual salary of $ $503,205 in 2012, Zuckerberg elected to take a drastic cut to his salary this year. Facebook's filing states, "In the first quarter of 2012, our compensation committee discussed and approved a request by our CEO to reduce his base salary to $1 per year, effective January 1, 2013."
Besides slashing his annual salary to effectively nothing, Zuckerberg also declined to take any new stock options in 2013. Facebook's filing states that Zuckerberg took no new stock options "because our compensation committee believed that his existing equity ownership position sufficiently aligns his interests with those of our stockholders." Last year Zuckerberg took home $ 266,101 in bonuses.
Facebook's SEC filing also revealed an interesting list of companies it considers to be in its peer group when reviewing its executive officer compensation levels. The list included Amazon (NASDAQ:AMZN), Netflix (NASDAQ:NFLX), Apple (NASDAQ:AAPL), Oracle (NASDAQ:ORCL), Cisco Systems (NASDAQ:CSCO), salesforce.com (NYSE:CRM), eBay (NASDAQ:EBAY), VMware (NYSE:VMW), Google (NASDAQ:GOOG), Yahoo (NASDAQ:YHOO), LinkedIn (NYSE:LNKD), Zynga (NASDAQ:ZNGA), and Microsoft (NASDAQ:MSFT). According to the filing, Facebook executives' compensation " fell between the 60 and 80 percentile relative to the companies in the Peer Group." Obviously, this excludes Zuckerberg's unusually low executive salary this year.
Despite his steep salary reduction, don't expect to see Zuckerberg in the soup kitchen line anytime soon. As of March 2013, his net worth was estimated to be $13.3 billion according to Forbes.
The social media entrepreneur exercised a stock option in 2012 that allowed him to purchase 60 million low-price shares of Facebook that have a value of approximately $2.3 billion. In 2012, Zuckerberg also sold 30.2 million shares during Facebook's IPO which generated $1.135 billion. According to Facebook, a "substantial" amount of this money was used to pay Zuckerberg's billion-plus tax bill.
Facebook closed up 2.72 percent, or 0.71 cents, at $26.85 on Friday. The chart below outlines Facebook's stock movement throughout the week.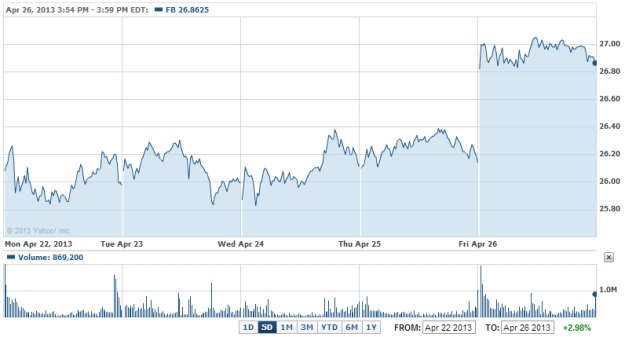 Don't Miss: Has Farmville 2 Put Zynga Back On Track?