This Is Why Doctors Love Apple
Did Apple's (NASDAQ:AAPL) iPhone and iPad unintentionally become the healthcare industry's new favorite tools? Perhaps not even the visionary Steve Jobs could have foreseen that Apple's mobile devices would become such an integral part of doctors' daily routines.
A 2012 Electronic Health Records Solutions and Mobile Technologies Study conducted by Vitera Healthcare Solutions reveals just how much Apple's devices have become entrenched in all aspects of the U.S. healthcare system. The study found that 72 percent of healthcare professionals use a mobile device for work purposes. Sixty percent of mobile device users use the iPhone, while 45 percent use an iPad. Only 38 percent of respondents reported using a mobile device with Google's (NASDAQ:GOOG) Android operating system.
Fifty-five percent reported using their mobile device for general communications, while 20 percent used their devices to do medical research on websites like WebMD (NASDAQ:WBMD). The latter use is even more critical in developing countries, where instant access to medical information can often mean the difference between life and death. The Vitera study found that 91 percent of physicians were interested in expanding the use of mobile devices like the iPad as a way to conveniently access electronic health records.
Besides being used for portable research and record-keeping purposes, the iPad and iPhone can also function as medical diagnostic tools. According to The Motley Fool, the Apple App Store included 13,600 health-related apps in April 2012. These include programs such as Vital Art and Science's myVision Track, the app that allows people with degenerative eye conditions to keep tabs on their eyesight at home with only their iPhone.
Vivus (NASDAQ:VVUS), a Mountain View-based pharmaceutical company, recently released a mobile app that allows users to track their progress while taking a weight-loss drug. SkinVision is an app that gives users general skin health information as well as allowing users to receive instant analysis from a dermatologist by sending a photo. Touch Bionics, a British firm that makes advanced prosthetic products, recently unveiled an iPhone app that allows patients to program their prosthetic limbs without visiting a specialist.
As Apple seeks to grow its presence in the overall business and enterprise world, the unexpected utilization of its mobile devices in the healthcare industry could signal an even greater potential source of future revenue for the Cupertino-based tech company.
Here's how Apple finished trading Monday: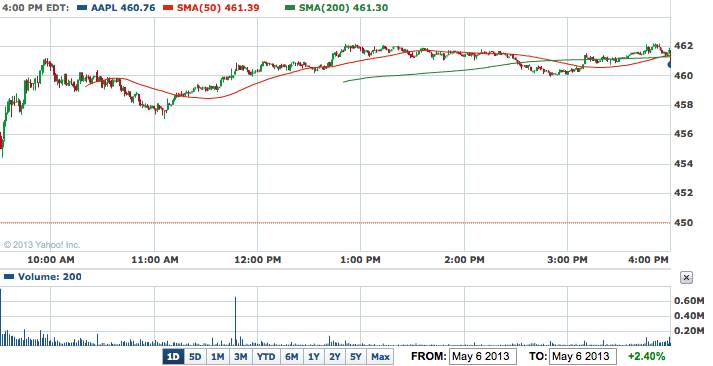 Investing Insights: Can Apple Be The Stock It Once Was?