This News Has Apple Smiling
Apple's (NASDAQ:AAPL) fickle investors may be overlooking the company's tremendous potential for growth in emerging markets in their pessimistic assessments of its future. That came from analysts at Goldman Sachs, who added in a new research report that a survey of Apple product owners in China had proven that demand for the company was alive and well.
Should you buy or sell Apple's stock ahead of earnings in a few days? Our 20-page proprietary analysis will help you save time and make money. Click here to get your SPECIAL REPORT now.
From those surveyed, 90 percent were at least likely to stick with the company for their next tablet or smartphone purchase, while 72 percent of iPhone and iPad users were "highly likely" to again choose an Apple device. This indicated that "Apple still appears to have an enviable level of customer loyalty in China," the report said. Asked about Apple's much-touted platform, 59 percent of the respondents said they downloaded from the App Store "frequently", while 33 percent said they did so "sometimes".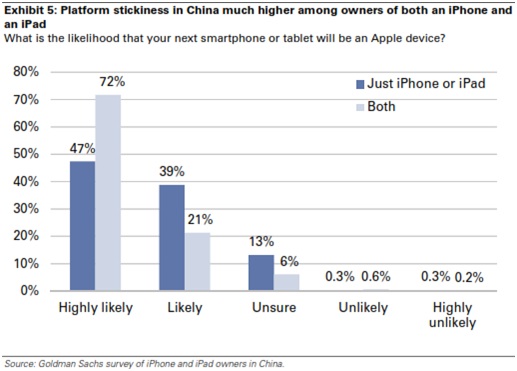 Opportunity for Apple was "far more promising than most investors recognize," the analysts said in their report, according to Market Watch. The firm affirmed a Buy rating on the stock along with a $760 price target, but added a warning…
"As the company hits its stride in China, we expect it will be able to direct more efforts toward other promising, underpenetrated regions," the report said. However, the company will need to work to build its brand more fully in these markets. "Apple's platform is not as mature in emerging regions and its penetration is still small, so the company likely needs to increase its focus on maintaining new-user momentum," Goldman wrote.
Start 2013 better than ever by saving time and making money with your Limited Time Offer for our highly-acclaimed Stock Picker Newsletter. Click here for our fresh Feature Stock Pick now!
According to the report, among the hurdles that may impede Apple's progress were a worsening macroeconomy, supply-chain disruptions, sharper competition, and potential legal and regulatory restrictions.
Here's how Apple traded this week, with their big earnings report looming ahead next week: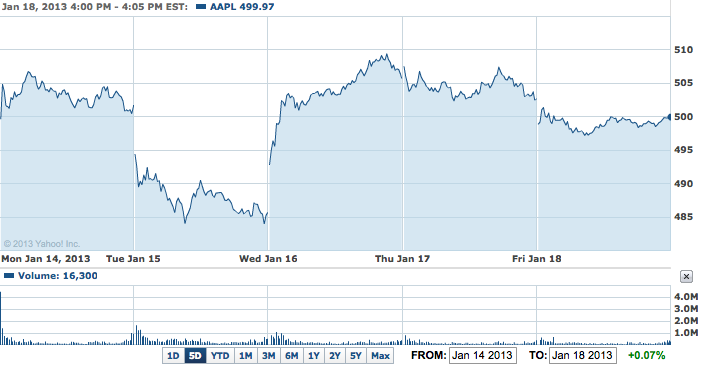 Don't Miss: Is Larry Page Kicking Apple When It's Down?